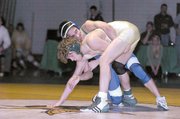 There is really no stopping the Langley High wrestling team when it comes to district competition. Year in and year out, the Saxons prove themselves to be the best team in the Liberty District. That was the case again last Saturday night when Langley captured its ninth consecutive district crown at the postseason championships event held at Langley.
"We just get the kids ready for this time of year," Langley coach John Belyea said, in regards to his team's annual dominance at the district championships.
Of Saturday's title, in which Langley (193 points) finished well ahead of second-place Jefferson (138) and third-place Woodson (131), Belyea indicated that the Saxons' overall depth was the key.
"This team definitely wrestles together hard as a team," he said. "We had guys we expected to win, but we had other guys who were seven or eight seeds who finished in the top four."
Langley saw seven wrestlers reach the finals and three of those come away with individual titles. The three Saxon champions were defending state titleholder David Helmer (152-weight class), named the tournament's Most Outstanding Wrestler, Jay Ives (130) and Anthony Kotoriy (103).
Helmer, a senior, garnered his fourth straight district crown with a first-period pin over South Lakes' Andrew Tzikas in the 152-class finals. From the start, Helmer (44-1) was the aggressor. He earned a two-point takedown on the edge of the mat in the first 10 seconds of the match. Several moments later he scored a standing takedown to go up 4-1. Before long, Helmer got his opponent on his back at the edge of the mat and got the pin. It was a dominant outing for Helmer, who had beaten Tzikas, 11-4, in a regular-season meeting.
Meanwhile, in the 130 finals earlier in the evening, Ives (28-16), a freshman, also won his finals match by a pin in defeating Marshall's Andy O'Meara, a senior and defending district champion. Ives led 2-0 after the first period. He scored a takedown in the opening seconds of the second period to go up 4-0. Later in the period, ahead 4-1, Ives got his opponent onto his back and earned the pin with 1 minute, seven seconds remaining in the period.
And in the 103 finals — in the match that started the evening's championship round of action — Kotoriy, a junior and two-time district champion going in, pinned his opponent, South Lakes freshman Austin Rosmarin (16-12). Rosmarin competed hard, but trailed 8-2 after one period before getting pinned with 1:16 left in the second period.
<b>LANGLEY'S FOUR</b> second-place finishers were Scott Jones (heavyweight), Josh Bates (145), Griffin Dulany (140) and Matt Wilson (125).
Jones, a senior and defending district champion, lost a tough 3-1 decision to Jefferson senior Matt Becker (25-5). Jones led 1-0 after two periods before Becker tied the match in the opening seconds of the third period on an escape point. Later, in the closing seconds, Becker scored a two-point takedown with three seconds left to win.
"I would have loved to have seen Scott win it," Belyea said.
All things considered, it was an outstanding showing by Jones, who had missed most of the regular season with a chest injury. His three matches at districts were his first outings since December.
"He's just not in [wrestling] shape," said Belyea, who said his heavyweight would work hard to get ready for this week's Northern Region Championships at Fairfax High School.
Jones recently signed a letter of intent to play college football at James Madison University.
Langley's Bates (35-14), a senior, lost in the 145 finals by pin to Jefferson junior Alex Shmorhun (19-6). The pin came late in the second period.
At 140, Langley's Dulany, a sophomore, lost to Jefferson's Mike Howard, 11-2. It was Howard's third career district crown.
And in the 125 championship, Langley's Wilson lost an 8-4 decision to South Lakes' Ryan Forest, a freshman who has competed in the sport for years. Forest (27-6) opened the scoring in the finals match with a two-point takedown in the final seconds of the first period. He later added to the lead with a two-point reversal 25 seconds into the second period to go ahead 4-0. By that point, he was in control of the match. Wilson (28-15), who had finished second in the district the year before, got into the scoring column in the opening seconds of the third period to make it 4-2. Later, with 1:18 remaining, Wilson pulled within 5-4 on reverse points. But Forest got an escape point and, seconds later, got a two-point standing takedown with 55 seconds left to pretty much seal the win.
Forest said his takedown at the end of the first period set the tone of the match.
"After the first takedown, that started up my confidence and it kept on building," he said.
Langley had two third place finishers — Cameron Kaihara, who defeated Stone Bridge's Ben Oslund, 6-3, in the match for third place, and Daniel Hozik (119), who was a 4-1 winner over Stone Bridge's Jon Sommer. Fourth-place finishers for Langley were JD Drasbek (215), Michael Pechstein (171) and Kiefer Hazard (160).
Now it's on to regionals for the Saxons, who captured the region crown two years ago before finishing second last year. In all, 12 Saxons will be wrestling at regionals.