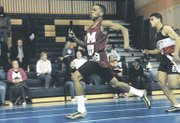 With just seven competitors at last week's National District Indoor Track Championships, the Mount Vernon boy's track and field team was easily the least represented team out of the seven others in attendance.
And yet, when all was said and done Friday night, there sat the Majors in a tie for second place in team scoring, proving that even at the high school level, quality is much more important than quantity.
The first-place 4x200-meter relay team of junior Clive Cameron, senior Shaq Thomas, senior Jonathon McMillon, and junior Gabe Grayson may have starred together as a group, but it was their prowess in individual events that proved to be the catalyst for the Majors.
Perhaps the most impressive of the bunch was Cameron, who won the 55-meter hurdles and broke a 10-year meet record, winning the 300-meter dash in 36.96 seconds. What looked like a glide through the first lap of the race soon turned into a gallop as Cameron overtook the field around the penultimate bend.
"I just sort of boomeranged over the turn because I knew I had to do something," said a smiling Cameron. "I'm going to have to motivate myself to go even faster for regionals because the competition is gonna be that much faster."
Thomas was also impressive, winning the high jump and finishing fourth in the triple jump. McMillon, who will compete in track and field at Hampton next fall, came in second place in the 500-meter dash and third in the long jump. Senior Josh Edmonds took home second in the shot put competition.
The Majors tied with Washington-Lee, but that was only after their 4x400-meter relay team was disqualified for having used runners who had already been in the maximum three events that day. It was the lone hiccup for this thinly stretched, but unbelievably successful seven-member Mount Vernon team.