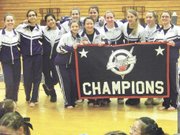 Following last Thursday's Concorde District girls gymnastics championship meet, Chantilly senior Elly Taura was seen wandering around the Centreville High School gymnasium, still clutching the banner used to crown each sport's district champion.
Centreville's director of student activities, Jimmy Sanabria, eventually found Taura and asked for the banner, explaining that it'll be needed the next time a Concorde champion is crowned at Centreville.
Suffice to say, Taura and Co. haven't had a lot of practice lately.
"It's really exciting," said sixth-year coach Maureen Naquin of the team's first district crown since 2000. "We've always been second, but it's really nice to finally get first."
Chantilly outscored Robinson, 143.325-133.550, regrouping from a less-than-ideal performance on the balance beam. Taura, who won the all-around competition by outscoring Robinson's Amanda Famiglletti, 37.250-36.050, even fell on the beam — an unlikely occurrence.
"I've waited for this for so long," Taura said. "Ever since my freshman year I've always gotten second and third, but now I finally got it."
With Herndon junior Maria Hayden sidelined for the rest of the season because of a separated shoulder, the all-around competition was wide open. Chantilly junior Lyndsey Saunders was fourth with 35.250 points and Centreville sophomore Mariah Rivera took second with 35.150.
"I'm just really happy," said Rivera, who was sick all week but felt well enough Thursday to win her first-ever district title on a single event, claiming first on the balance beam with 9.150 points.
"I stuck my entire beam routine," she added.
Two years after finishing last in this same competition, Centreville took third place as a team with 127.325 points.
Westfield, which, according to head coach Holly Richbourg, has improved steadily every week, placed last but only because the Bulldogs have only three gymnasts. The Bulldogs were led by senior Madeleine Arencibia, who finished 20th overall.
"[Arencibia] has been the heart and soul of the Westfield team," said Richbourg, who also serves as Centreville's head coach. "She's been a wonderful asset."