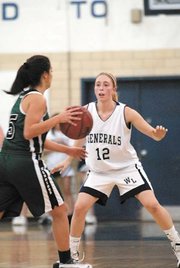 Washington-Lee coach Angie Kelly gave her team a hypothetical to think about before Monday night's showdown against Arlington rival Wakefield — the last such meeting between two in-county schools at W-L's Rudolph Campbell Gymnasium.
With the old gym scheduled to be demolished in the coming months as part of Washington-Lee's ongoing renovation project, Kelly emphasized to her players that people would remember this game 20 years from now. They controlled how that story would be told.
"This is going to be one of the last memories we have in this gym and a loss was not what we wanted," said sophomore Michele Derieux.
Consider their wish granted after a 50-34 win over Wakefield gave the home fans something to be happy about on an evening where the boy's basketball team played its last-ever game at Campbell Gymnasium.
It was a well-balanced effort for the lady Generals, who saw a three-point lead balloon to double digits thanks in large part to an 8-0 run to begin the fourth quarter. Derieux led W-L with 16 points, including seven-straight points in the second quarter.
Junior Shante Waller (eight points, all in the third quarter) and senior Jen McCue (13 points) were also instrumental for the Generals (6-15, 5-6), who have bounced back from losing nine of their first 10 games of the season to go 5-6 down the stretch.
With a win over Stuart Friday, W-L can secure a first-round home district playoff game next week, therefore extending Campbell Gymnasium's run one last game.
"We're not playing like one person anymore, we're playing like a team," said Waller.
"We're getting to where I thought we should be at the beginning of the season," added Kelly. "We just refused to lose, not in this house, not the last time an in county rivalry game takes place."
<b>THE BOY'S GAME</b> that followed didn't have as happy an ending for the Generals. After taking a 38-30 halftime lead over favored Wakefield, W-L "ran out of gas" according to coach Bobby Dobson, allowing the Warriors to go on a 18-4 run that spanned much of the fourth quarter en route to an 81-60 victory.
A trio of seniors led Wakefield (15-6 overall, 7-4 National District) in scoring — Corey Levenberry (20 points, five rebounds), Robel Getu (19 points, including five 3-pointers), and Johnathan Ford (16 points, seven rebounds, four assists). Senior Charlie Fuller and junior Tim Edwards led W-L (4-17, 3-8) with 17 and 10 points, respectively.
It was a bittersweet win for the Wakefield coaching staff, though. Head coach Tony Bentley was a W-L player in the late 1980s and coached under Dobson as an assistant for 10 years prior to beginning his tenure with the Warriors. Wakefield assistant coach Horace Willis also was an assistant under Dobson at W-L and is still an assistant football coach with the Generals.
Afterwards, both Bentley and Dobson talked about some of their favorite memories in the gym. Bentley immediately mentioned a 1996 rivalry game in which W-L's Tony Stanley scored 49 points in a Generals win over rival Yorktown.
Dobson's mind went back to the 1999 season, when the coach won his first district title at W-L, defeating Wakefield of all teams, 37-34. The gym may be gone next year, but this Arlington rivalry will remain no matter where the games may be played.