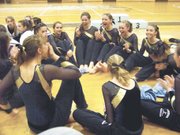 <b>Famiglletti, Robinson Take Second</b>
Fortunately for the Robinson girls gymnastics team, freshman Emily Famiglletti is much more comfortable during a gymnastics competition than she is after it -- especially when a tape recorder is in front of her face.
"I'm so bad at [interviews]," said Famiglletti, on Thursday night, Feb. 5, at Centreville High School following the Concorde District championship meet.
After suffering a knee injury nearly three weeks ago, Famiglletti was able to battle through the pain, totaling 36.050 points to finish second behind Chantilly's Elly Taura (37.250) in the all-around competition.
Famiglletti finished sixth on vault (9.300), second on bars (8.975), second on the balance beam (9.050) and seventh on floor (9.400).
"I'm shocked," Famiglletti said. "I hurt my knee, and I didn't know if I was going to do well."
Her second-place finish also helped the Rams advance to Thursday afternoon's Northern Region finals for the first time since joining the Concorde District for the 2005-06 season; they finished second behind Chantilly, 143.325-133.550. The region meet starts at 3:30 p.m., at Lake Braddock Secondary School.
"We hit our routines, and everyone made almost everything," said Rams coach Megan Smiley.
Freshman Sarah Paul finished 11th with a total of 32.850 points, while sophomore Jessi Marco took 13th and freshman Alex Ffield was 19th.
Alexa Kopach of Fairfax placed eighth in the all-around competition, while placing seventh on the vault, 20th on bars, fifth on the beam and third on floor. As a team, Fairfax took fourth.
"I'm so lucky to be around such a supportive team," Kopach said. "I'm just excited about what's to come and how the team has come together."
<b>Yost Represents Rebels</b>
Jordan Yost, a 171-pound junior on the Fairfax wrestling team, was one of five Rebels to make it to the finals of this past weekend's Concorde District tournament.
But at the end of all 14 matches Saturday, Feb. 7, Yost was the only one to walk away with a district title. Yost earned an 11-0 decision over Centreville's Emilio Garcia.
"He beat me earlier in the season, and that really got to me," said Yost, whose team finished third with 124 points.
Yost improved his career record to 92-19 and is 35-3 this season, and he'll advance to this weekend's Northern Region tournament at Fairfax.
"My goal all season has just been to win regionals," Yost said. "Obviously, this is nice, but the one I want is regionals."
With 131 points in the Liberty District tournament, W.T. Woodson took third behind Langley (193) and Jefferson (138). The Cavaliers were led by 112-pound Bob Houser and 171-pound Tommy Williams, who both finished first.
<b>Fairfax Swim and Dive Roundup</b>
The Fairfax boys swim and dive team finished second and the girls took fourth at this past weekend's Concorde District swim and dive championships, at the Cub Run RECenter. Individual first-place finishes from Ellyn Baumgardner (200-yard individual medley, 100 breaststroke), Kelli Stockton (1-meter diving) and Jean DeOrnellas (100 free) aided the girls' team. The 200-medley relay team (Lauren Gehrke, Baumgardner, DeOrnellas and Theresa Harvey) and the 200-freestyle relay team (Baumgardner, Frances Dowd, DeOrnellas and Harvey) finished first as well. On the boys' side, the Rebels had second-place performances from Alex Price (50 free) and Zach Patteson (1-meter diving), while the 200-free relay team (Ryan Larson, Travis Lauri, Joey Kelly and Price) took second also.
<b>Jefferson Roundup</b>
Jefferson's girls gymnastics team finished second to Stone Bridge at last week's Liberty District championships, 135.55-133.85. W.T. Woodson finished fifth with 117.550 points. Senior Chrissy Franzel (Burke) placed third on floor and vault and fourth on bars and the beam. She was third in the all-around competition. … The boys and girls swim and dive teams finished fourth and fifth, respectively, at the Liberty District championship meet. Burke native Lauren Laffosse (Burke) was sixth in the 500-yard freestyle.