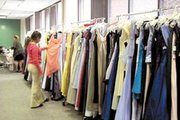 Send announcements to reston@connectionnewspapers.com or call 703-917-6437. Deadline is Thursday.
All 37 Fairfax County Fire and Rescue Department stations are holding a food drive for local homeless shelters through Wednesday, Feb. 11. Drop off non-perishable food items at all stations.
The American Legion, Wayne M. Kidwell, Post voted to donate a total of $7,000 dollars to the following Veteran organizations: VA Veterans Care Center, DC VA Medical Center, Angel of Mercy, Marine Semper Fi Fund and Fisher House Foundations. These funds were raised during the Memorial Day Poppy Campaign and Snow Cone sales at the
Herndon Festival last year. In addition to the organizations above, a donation will also be made to the Herndon High School Naval Junior ROTC in appreciation for all the help they provide the Post throughout the year.
Partial scholarships are available for new English as a Second Language (ESL) classes. Northern Virginia Community College and The Dulles Regional Chamber of Commerce are now enrolling qualified participants for new ESL for Employment classes that start in February. To qualify for the matching scholarship, applicants need to be from moderate-income households, complete NOVA's ESL screening test and present documentation needed to work for U.S. employers. To learn more about any of NOVA's 8 ESL for Employment class locations for the Spring 2009 semester, call 703-764-7779 or e-mail eslemployment@nvcc.edu.
The Fairfax County Police Department is seeking residents to attend the upcoming Spring Citizens Police Academy, held Thursday evenings March 12-May 16, 6:30-10 p.m. The Citizens Police Academy is a 10-week program and classes are a combination of lecture and interactive activities. Topics include SWAT and special operations, gangs, 911 communications center, patrol, crime prevention, crime scene, identity theft and a tour of the Adult Detention Center. The program is offered free of charge. Applicants must live or work in Fairfax County, be 18 and provide their own transportation. E-mail CPA@fairfaxcounty.gov or call (703) 280-0713 for applications.
Mothers First-Herndon/Reston is a nonprofit support organization helping women transition from careers to at-home motherhood. Meetings are held the first and second Wednesdays of each month at 10 a.m., at the Herndon Fortnightly Library, 768 Center St., Herndon. Contact 703-827-5922 or www.mothersfirst.org.
Ice Skate with Scooby-Doo, Tweety Bird, Cat in the Hat and more every Saturday in February, 11 a.m.-1 p.m. at the Reston Town Center, 11900 Market St. After, bring your skating tag or sticker to Edibles Incredible Desserts to receive a free hot chocolate with every cupcake purchase.
Live acoustic music will be performed Mondays and Saturdays, 9:30 p.m.-1:30 a.m. at Uno Chicago Grill at Reston Town Center, 11900 Market St.
The Reston Museum, 1639 Washington Plaza, is open year round, Tuesdays-Sundays, 12-5 p.m. Call 703-709-7700 or visit www.restonmuseum.org
The Greater Reston Arts Center, 12001 Market St., Suite 100, Reston, is open Tuesday-Saturday, 11 a.m.–5 p.m. Visit www.restonarts.org.
Belly dance performances at La Kasbah Moroccan Restaurant, 11424 Washington Plaza, Reston, every Wednesday, 7:30 p.m., and every Friday and Saturday, 8 p.m. Call 703-707-0733 or visit www.lakasbahrestaurant.com.
Run, jog or walk with Body by Geoff, every Saturday, 8 a.m. Free. Meet at Body By Geoff, 1609 Washington Plaza, Reston. Call 703-464-5559.
Live music at Lake Anne: every Saturday, 6:30-9:30 p.m. at Jasmine Café, 1633 Washington Plaza, 703-471-9114; and every Thursday, Friday and Saturday, 9 p.m. at Tavern on the Lake, 1617 Washington Plaza, 703-471-0121.
Chinese conversation, 5-6 p.m., at the Reston Community Center Hunters Woods, 2310 Colts Neck Road, Reston, every Sunday. Call 571-225-7697.
Latin movement classes at Dance With Me Ballroom Dance Studio. No partner needed. Cuban motion, free style dancing and dance styling taught plus a fun exercise. Drop-in every Sunday, 2-3 p.m. Cost is $20 per person. The studio is located at the border of Reston and Herndon at 251 Sunset Park Drive. Visit www.dancewithme.net or call 703-444-3061.
Play chess on the Plaza every day. Sets are available for free check-out at Reston's Used Book Shop, 1623 Washington Plaza N.
Blood pressure and diabetes screenings are available every Saturday, in front of Body by Geoff, Lake Anne Village Center,1609-B Washington Plaza. Drive. Colleen Kivlahn conducts the free screenings.
Jazz on the Plaza, 1609 Washington Plaza, free every Sunday, from 5:30-8 p.m. featuring the Mykle Lyons Trio and friends. Visit www.lakeanneplaza.com.
Live Jazz every Friday, from 7-9 p.m., on the plaza, 1609 Washington Plaza. Different bands each week. Visit www.lakeanneplaza.com.
Free Saturday morning concerts every Saturday, 11 a.m.-1p.m., by the plaza fountain, 1609 Washington Plaza. For lineups, contact Reston's Used Book Shop at 703-435-9772.
Open mic nights every Tuesday, 8 p.m., at Tavern on the Lake, 1617 Washington Plaza and on the fourth Friday of every month at 7:30 p.m., at Reston's Used Book Shop, 1623 Washington Plaza.
Gather in the Cradle & Crayon Nursery, Reston Town Center, 11913 Freedom Drive, for a favorite children's book and some Mom social time every Wednesday, at 10:30 a.m. Call 703-437-0900 for details.
Broomball games will be held every Monday, 7-8:30 p.m., in the Ice Skating Pavilion at Reston Town Center. No skating skills necessary; helmet required. $15/player. Register at 703-709-6300 or skating@restontowncenter.com.