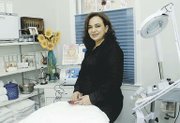 <i>Keeping Shop is a regular feature of the Gazette Packet. To qualify, retail shops should be locally owned or operated; new, expanding, celebrating a significant anniversary or doing something otherwise newsworthy. To nominate a business, contact Nina Tisara, <a href="mailto: ninat@tisaraphoto.com">ninat@tisaraphoto.com</a></i>
Aida Fekir was born in Tunisia and it was her dream as a teenager to pursue a career as an esthetician. She moved to Paris and received her graduate certification from the internationally renowned School of la Maison de Beaute, Carita Paris, France in 1983. Her certification includes specialties in facial-body treatments and makeup.
Aida feels that her temperament and creativity are well suited for her profession. It is her art, an extension of herself. She draws on her world travels and Mediterranean upbringing when she approaches each client's individual needs. Aida has an extensive knowledge of how herbs and oils enhance daily lives and aromatherapy is a part of her daily living.
<b>Why did you choose to work for yourself rather than as an employee for someone else?</b>
Aida enjoyed her work in an Old Town spa for the past 10 years. With the encouragement of her family, she decided to pursue her own philosophy of quality and personalized treatments in a relaxing and private atmosphere. Her husband of 25 years built her space and her son set up the office. Her daughter occasionally helps in the spa during school vacations.
It was a difficult decision to leave the spa and start her own business. She truly enjoyed her clients and was concerned about losing touch with them. Much to her delight they are finding out about her new business and it is a joy for her to see them again and enjoy their support of her new endeavor.
"I live here in Alexandria and I love working in my city. It is wonderful to be here and feel like everybody knows me. I have worked hard to build my reputation and I am happy to be a part of life in Old Town. Every day reinforces that fact that I have chosen the right path. I truly enjoy what I do," she said.
<b>Services</b>
Aida provides advanced technology in microdermabrasion using crystals and organic grains.
She uses her own recipe for waxing, an organic sugar paste, which has been used in the Mediterranean for hundreds of years. Combined with her unique technique, it is perfect for sensitive skin causing minimal discomfort with no irritation. Aida also includes massage, manicures and pedicures, lash and brow tinting, and ear candling among her treatments.
She has chosen to use Southy's-Paris products in her spa — a French line that she believes, after years of experience, is the best.
Aida has been chosen Allure Magazine's Top Rated Waxer in Virginia for 2006, 2007, and 2008, a distinction that has brought her many loyal clients. She is also a member of the Alexandria City Chamber of Commerce.