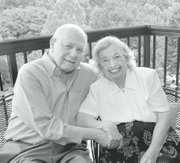 When their four children were growing up in the 1960s, Donna and Mel Bergheim would hire a babysitter and sneak out for dinner and a movie on Valentine's Day. Even now, after 49 years of marriage, the Bergheims still like to go out on Valentine's Day. As the first married couple to be named Living Legends by the Alexandria Gazette Packet and the Rotary Club of Alexandria, the Bergheim's partnership is a story of unflagging idealism and mutual affection.
"If I hint at it often enough, Mel will bring me a box of chocolates," said Donna Bergheim. "I try to write him a poem instead of buying some drug-store card."
Mel Bergheim was first elected to the Alexandria City Council in 1970, when he launched a career of civic life promoting civil rights and neighborhood protection. Donna Bergheim made a name for herself promoting the arts and played a critical role in the development of MetroStage. As a team, the Bergheims have become part of the political gauntlet that potential candidates must navigate through in order to gain office in Alexandria. They and 22 other Living Legends will be feted during a private reception at the Carlyle Club on Feb. 8.
"They were chosen as a couple because they are both very involved in the community," said former Alexandria Gazette Packet editor Mary Anne Weber, who was part of a panel that named the Living Legends for 2008. "But they each had their own separate projects."
He fought for civil rights. She became a powerful advocate for the arts community. Together, their teamwork over the years has achieved a wide range of accomplishments, everything from establishing non-smoking areas in city restaurants to preventing the Old Town Theatre from becoming a restaurant. When asked for their secret of their long-term romance and partnership for the Living Legend feature honoring them, each deflected attention toward their spouse as if to underscore the yin-yang nature of their relationship.
"I couldn't have done what I've done without Donna," he said.
"It's very simple," she said. "I'm in love with him."