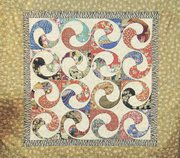 Send announcements or events, which are open to the public at no or minimal cost, to The Loudoun Connection, 7913 Westpark Drive, McLean, VA 22102 or e-mail <a href="mailto:loudoun@connectionnewspapers.com">loudoun@connectionnewspapers.com</a>. Deadline is Friday, two weeks before the event. Photos/artwork encouraged.
An exhibition of quilts made by members of the CountrySide Quilt Guild is on display at the Loudoun County Government Center's Gallery One, Government Center, first floor, 1 Harrison St. S.E., Leesburg. Ten quilters are participating in the exhibit, which showcases more than a dozen quilts. The quilts can be viewed through the month of February during regular business hours, 8:30 a.m.-5 p.m., Monday-Friday.
Dominion High School Drama presents "Arsenic and Old Lace," a dark comedy about a couple of sweet elderly sisters who are known in their Brooklyn neighborhood for their acts of charity. The show will run Thursday-Saturday, Feb. 5-7, 7:30 p.m. and Sunday, Feb. 8, 3 p.m., at the Dominion Auditorium, 21326 Augusta Drive, Sterling. $7 for students and children; $8 for adults; tickets can be purchased at the door.
The Sterling Playmakers are holding open auditions for John Bishop's "The Musical Comedy Murders of 1940" Friday, Feb. 6, 7-9 p.m., and Saturday, Feb. 7, 1-4 p.m., at Sterling Middle School, 201 W. Holly Ave., Sterling. Auditionees should be at least age 18-years-old. Visit www.sterlingplaymakers.com or e-mail mcm1940@sterlingplaymakers.com.
A special exhibit of paintings by Lavonne Donohue opens Feb. 6, at Gallery 222, 222 S. King St., Leesburg, and runs through the month. Donohue is a member of the Loudoun Sketch Club and the Loudoun Arts Council. Visit www.gallery222.com or call 703-777-5498.
Works by Conor Backman of Purcellville will be on display in an exhibit titled Variances, Feb. 6-28, at Gallery 222, 222 S. King St., Leesburg. An opening reception will be held Friday, Feb. 6, 6-9 p.m.
Franklin Park Arts Center, 36441 Blueridge View Lane, Purcellville, presents the 10th annual Youth Art Show Sunday, Feb. 8-28. Students will display their talent in all media and certificates and ribbons will be presented. The opening reception will be Sunday, Feb. 8, 1 p.m. Call Barbara Sample at 540-338-7973 or visit www.franklinparkartscenter.org.
The International Youth Orchestra is holding auditions for accomplished young musicians ages 10-17 for the summer 2009 season. Available positions include principal and/or section chairs in the following instruments: violin, viola, cello, string bass, flute, oboe, clarinet, bassoon, trumpet, trombone, French horn, percussion. Scholarships will be granted to principal chairs. Auditions will be held, by appointment only, at Woods Recreational Center, 44020 Louisa Drive, Ashburn, Saturday, Feb. 14, 11 a.m.-1 p.m. Call 703-628-2589 or e-mail info@ymppa.org to sign up to audition.
The production "Five Women Wearing the Same Dress" will run Feb. 20-March 1, at the Waddel Theater, 1000 Harry Byrd Highway, Sterling. Shows are Fridays and Saturdays, 8 p.m. and Sundays, at 7 p.m. Admission: $15 adults, $10 students and seniors.
Master Singers of Virginia present Winter: In the Snows of England and France, including works by Francis Poulenc, Benjamin Britten, Gerald Finzi, William Walton, C.V. Stanford, and Gustav Holst, Saturday, Feb. 21, 8 p.m., Our Savior's Way Lutheran Church, 43115 Waxpool Road, Ashburn. Cost: $15 adults and $12 students and seniors, 65-plus, in advance; $17 adults and $14 students and seniors at the door. Call 703-655-7809.
The Loudoun Symphony and Loudoun Ballet Company present
Pirates and Princesses, Saturday, Feb. 21, 4 p.m., Loudoun County High School, 415 Dry Mill Road S.W., Leesburg. Free admission. Snow date Feb. 28 at Stone Bridge High School. Children are invited to wear a costume. Free. Call 540-454-6981.
The Sterling Playmakers will present their next play, the musical "Puss In Boots," a play for children by Vera Morris, Feb. 27 and 28 and March 1,7 and 8. Evening performances on Fridays and Saturdays, 7:30 p.m., matinees on Saturday s and Sundays, 3 p.m.
The Loudoun Chorale invites prospective new members to attend rehearsals and consider joining the Chorale for its spring 2009 concert season. All vocal parts are needed and auditions are not required through January, but members should be able to read music. The Chorale rehearses every Sunday, 6–8 p.m., at Holy Trinity Lutheran Church, 605 W. Market St., Leesburg. Call 703-722-4055 or visit www.loudounchorale.org.
The Artists' Undertaking Gallery presents Bright and Bold, an exhibit of watercolors by Jack Dyer of Springfield and fused glass by David Barnes of Sterling. The exhibit runs through March 2, 11 a.m.–5 p.m. daily at 309 Mill St., Occoquan. Call 703-494-0584 or visit www.theartistsundertaking.com.
Neorealist Sherry Zvares Sanábria's paintings from the series, "Unforgotten: Slave Quarters and Other African American Sites" will be on display through March 23, at George Washington University Virginia Campus, Building 2, 44983 Knoll Square, Ashburn. Complimenting the Sanábria exhibit, Honoring and Commemorating Black Leadership is a selection of the artwork chosen or commissioned by the U.S. Postal Service, will be on display through March 23.
Paintings by Loudoun artists Maggie Siner and Kurt Schwarz are on display at Washington Dulles International Airport through March 31.
The exhibit, coordinated by Gallery 222 and the Washington Metropolitan Airport Authority, is the sixth in the program's rotating series of displays. The paintings are installed in the area beyond the security checkpoints in the Main Terminal on the Arrivals Level.