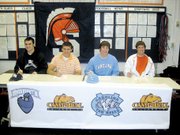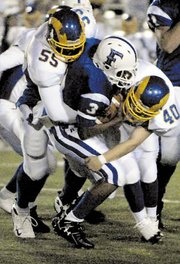 <b>Robinson's Stanton to JMU</b>
If the months between November 2007 and August 2008 serve as an indication, the James Madison University football team should benefit greatly throughout the next four years from the contributions of Robinson senior Jordan Stanton.
A 6-foot-4, 242-pound defensive end, Stanton signed a Nationals Letter of Intent with the Dukes on Wednesday. Stanton joins a James Madison team that finished 12-2, losing to Montana in the NCAA Football Championship Subdivision semifinals on Dec. 13. The Dukes last won a national title in 2004.
"They were there from the beginning, and they've done such a great recruiting job with me," said Stanton, who recorded 83 tackles and four sacks this past season for the Rams (5-5). "My gut feeling was JMU, so I just went with it."
Stanton didn't start as a junior, contributing as a defensive substation behind such talented players as Derek Qadir, Logan Perryman and classmate Ryan Holder. But during the off-season, Stanton added 40 pounds of muscle, sliced two-tenths of a second off of his 40-yard dash time (4.7) and beefed up his bench press by 100 pounds (310).
All the improvements resulted in a standout senior season during which he earned first team All-Concorde District, first team All-Northern Region and second team All-State honors. In addition to his tackle and sack totals, Stanton also forced two fumbles and blocked a punt.
"His work ethic was a great example to our younger players with what can happen when you work hard," Rams coach Mark Bendorf said. "Coming in to his senior year his goal was to establish himself as an important player on our team, and he did that. It wasn't easy, but he did that."
Now, with a desire to perhaps major in sports marketing, Stanton will try to make his mark on a new team.
"Football is a sport I love, and I knew I needed to work hard to continue this journey," Stanton said. "I really worked hard and did everything that I could."
<b>W.T. Woodson's Kohlrus Honored</b>
Tim Kohlrus, a senior guard on the Washington College men's basketball team and a graduate of W.T. Woodson High School, picked up a pair of honors on Monday. Kohlrus was named the PrestoSports/Provident Pride and Centennial Conference Player of the Week for the time period between Jan. 26 and Feb. 1. During those three games, Kohlrus averaged 20.7 points and six rebounds per game to help Washington go 2-1. To be considered for the PrestoSports/Provident Pride award, athletes must player for one of the nine Division III colleges or universities in Maryland. At W.T. Woodson, Kohlrus earned All-Liberty District honors during his junior and senior seasons, helping the Cavaliers win the 2005 Liberty District crown.
<b>Adult Soccer Signup</b>
The Fairfax Women's Soccer Association is recruiting for the spring season, which runs from March until June. Age divisions include 18-30, 30-40, 40-50 and 50 and over. Games are played on Saturdays at Pine Ridge Park near Fairfax Hospital and on weeknights at either Wakefield Park (Audrey Moore RECenter) or E.C. Lawrence Park in Centreville. Experienced players and beginners are welcome. Sign-up fee is $64 for Fairfax County residents and military personnel, $84 for out-of-county residents. Training clinics are free. Go to www.fwsasoccer.org to register or call 703-323-0545 for additional information.
<b>Zimmeck Honored Again</b>
Fairfax native and W.T. Woodson graduate Claire Zimmeck, after wrapping up her senior season as a forward on the William & Mary women's soccer team, picked up first team All-State accolades from the Virginia State Sports Information Directors Association (VaSID) for the third consecutive year when the teams were announced Wednesday, Jan. 28. A three-time All-American and a two-time Colonial Athletic Association Player of the Year, Zimmeck finished her four-year career with 57 goals and 12 assists, including marks of 15 and six, respectively, this past season. On Friday, Jan. 16, Zimmeck was drafted in the ninth round (63rd overall) by the Washington Freedom in the inaugural Women's Pro Soccer draft. The WPS will begin play in April, with teams in Washington, D.C.; St. Louis; Boston; Chicago; Los Angeles; New York/New Jersey and San Francisco.
<b>Boys Youth Lacrosse Tryouts</b>
Generals Lacrosse Club is a travel boys lacrosse club that participates in the competitive National Premier Youth Lacrosse League (NPYLL). The organization is looking for a few select U-11, U-13 and U-15 players for the upcoming season, which runs from March until June. For more information, contact Mike Washer at 703-980-8873 or visit www.genlax.com.
<b>Maykoski Named All-State</b>
Teri Maykoski, a redshirt-junior defender on the James Madison women's soccer team and a graduate of Robinson Secondary School, picked up second team All-State honors from the Virginia State Sports Information Directors Association (VaSID) when the teams were announced Wednesday, Jan. 28. She was a second-team All-Colonial Athletic Association pick during her sophomore year but missed the majority her junior campaign due to injury. After redshirting, Maykoski earned second-team All-Conference honors this past season. Maykoski made 23 starts this season for the Dukes, tallying five goals and five assists. At Robinson, Maykoski was a four-time All-Patriot District pick, as well as a three-time All-Northern Region selection.
<b>Some Three-on-Three?</b>
The Fairfax County Department of Community and Recreation Services is hosting a three-on-three basketball tournament on Saturday, Feb. 21, from 6-10 p.m., at Mott Community Center, 12111 Braddock Road, Fairfax. The tournament is open to all adult basketball teams and will consist of a single- or double-elimination format depending on how many teams sign up. Co-ed teams are encouraged. Each game will have one official, and the championship team will win a trophy; other prizes will be offered as well. The fee for entry is $25. For more information contact the Department of Community and Recreation Services at 703-278-8605.
<b>SYC Seeks Applicants</b>
The Springfield-South County Youth Club (SYC) is looking for experienced age group coordinators for new U-9 boys and girls travel soccer teams that will form in June. The SYC Soccer Committee will interview prospective candidates to fill these two key, volunteer positions during the months of February and March. If interested, send an email to the SYC travel commissioner at coachgene@juno.com.
<b>Local Athletes Qualify for Nike Nationals</b>
This past weekend, eight members of the Summers & GeorgiaRee Track Club in Lorton traveled to East Tennessee State University to compete in the Knoxville Track Club High School Invitational. The boys 4x400-meter relay team, consisting of Robert Allen, Brian Allen, Kevin Johnson and Anthony Swindell, finished sixth with a time of 3 minutes, 25.09 seconds, qualifying for the Nike Indoor Nationals, which takes place March 13-15, in Boston. The girls 4x400 relay team of Loren Dyer, Ari Hires, Dennika Williams and Ashley Burks finished 11th. Allen went on to finish fifth (2:01.78) in the 800 while Swindell took 23rd, and Johnson took seventh (50.96) and Dyer grabbed 13th (1:00.96) in the 400. Johnson's 400 and Allen's 800 times qualified both of them for the national meet.