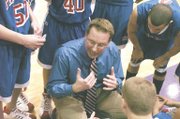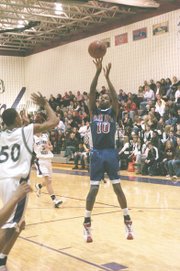 While the Park View High boys basketball team did a number of good things in its Dulles District game at Potomac Falls last Friday night, it was not enough for the Patriots in a 70-61 loss to the defending district champions.
"Potomac Falls throws so many different looks at you pressure wise," Park View coach Mike Koscinski said of the Panthers' stifling defense. "We kept our turnovers in check but it's hard to get into an offensive rhythm. At this time of year, you have to really execute. For the most part, I was pleased with how we played, but we needed to execute better down the stretch."
Park View (7-11 overall, 5-5 in the district) trailed the Panthers 38-29 at halftime, but stayed in the game and got as close as four points early in the final quarter. But the Patriots could never get closer than that. Potomac Falls, currently second in the district standings behind first-place Dominion, improved to 12-5 overall and 7-3 in the district.
It marked the second time Potomac Falls has defeated Park View this season. In the first meeting between the two teams Dec. 19, the Panthers won at Park View, 82-62.
Koscinski said his team protected the ball better in Friday's game against Potomac Falls than it did in the December meeting when a high number of turnovers contributed to the lopsided score.
Marcus Freeman, Park View's senior shooting guard and leading scorer, tallied 19 points in Friday's loss. Also for the Patriots, senior forward Donnie Royer scored 16 points and Jordan Owens, a junior forward, and senior center Kenny Smith both had eight. Potomac Falls, in the win, was led by senior guard Kevin Bartnick's 23 points. Also in double figures for the Panthers were sophomore point guard Lukas Mihailovich (17 points), freshman center Greg Graves (11) and senior guard Greg Woodlief (10). Potomac Falls, a day earlier, had lost to Loudoun County, 74-70. Mihailovich scored 23 and Bartnick 17 in that game in which the Panthers held a slim one-point halftime lead.
<b>PARK VIEW</b>, a day before its loss to Potomac Falls, defeated district opponent Heritage, 70-58, on the road. Royer, who recently broke into the starting lineup, scored 16 points in the win. Senior point guard Josh Jones and Smith both contributed 12 points.
The Patriots played a good all-around game in beating the Pride.
"We executed well and our rebounding and defense was solid," Koscinski said.
Park View has received a nice boost of energy from freshman guard-forward Brian McCarter, who played most of the season on the junior varsity team before being called up to the varsity squad a few weeks ago. He has been utilized off the bench. In Park View's 86-82 home loss to Loudoun County Jan. 24, McCarter broke out for 19 points.
This week, Park View was scheduled to host Dominion (12-5, 8-1) on Tuesday before going to Broad Run (14-3, 6-3) this Friday night. Earlier in the season, Park View played both Dominion and Broad Run tough, defeating Broad Run in double overtime, 88-84, and falling to the Titans, 58-53. The Patriots turned the ball over 27 times in the loss to Dominion.
There really does not appear to be a dominant team in the district. First-place Dominion's lone district loss came to Briar Woods (6-9) a few weeks ago. The upcoming district tournament, set to begin Feb. 17, will be wide open. Koscinski believes his team will be ready to play in the eight-team tournament.
"At this time of year, we have to step it up and play at our best," Koscinski said. "It will be exciting."