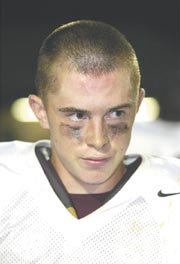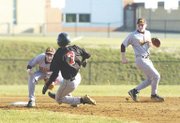 Broad Run High senior Chris Jessop accepted a partial scholarship offer last week to play baseball at Flagler College, an NCAA Division II private school in St. Augustine, Fla.
Jessop, perhaps best known locally for quarterbacking the Broad Run football team to the Virginia State AA title this past fall, is a shortstop in baseball and has been a big contributor on a Spartans' team that has captured Dulles District titles each of the past two spring seasons.
Flagler baseball coaches saw Jessop compete at a showcase camp in St. Augustine this past December.
"They were impressed with his size, speed and arm strength," Pat Cassidy, the Broad Run head baseball coach, said.
Last year for Broad Run, Jessop, out of the No. 2 spot in the batting order, batted .290 and was a perfect 20 for 20 in stolen bases. He earned First-Team All-Dulles District honors as a shortstop and was named to the Second-Team All-Region II squad.
He also earned First-Team All-District accolades two years ago as a sophomore. That season, Jessop batted .395.
During his two varsity seasons, Jessop has been a steady presence defensively at shortstop. He has good range, quick hands and the ability to make plays in the hole with his strong arm. He made just three errors during the 2008 season.
"He can get to balls and has outstanding arm strength," Cassidy said. "He's got the arm, range and glove to play [at Flagler] right away."
Jessop, according to Cassidy, will likely play one of three positions — short, second or third — at Flagler.
He has always had a love for baseball.
"He loves working at hitting and fielding ground balls," Cassidy said.
<b>AT THE PLATE</b>, Jessop is a solid contact hitter who can hit to the opposite field, bunt effectively and work the count. He has struck out only five times throughout his two years of varsity ball.
"He's a great contact hitter," Cassidy said. "And he's so fast. He can beat out a lot of groundballs [for infield hits]. He can handle the bat and hit and run."
Cassidy said the reserved Jessop is excited about going to the Florida school.
"He has an opportunity to play in the south where the weather is better," Cassidy said. "He may get a chance to play there right away. He visited the school and liked the guys, the coach and the team. The campus is about a mile from the beach. He'll get a great education. I really think he hit a home run with this one."
Flagler baseball is making the move into the NCAA this spring as a Division II program. In recent years, the baseball program has competed as an NAIA team. The Saints, who compete in the Peach Belt Conference, are under the leadership of head coach Dave Barnett, who in 21 years at the helm has led Flagler to 657 wins with 502 defeats. Last year, Flagler went 25-25 in its final year as an NAIA program.