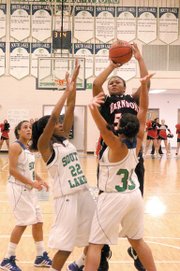 Two players who likely would have been quite instrumental to the Herndon High girls basketball team this season — juniors Alexis Lewis and Alysha Hearns —– have, for the most part, been unavailable due to injuries.
But now, at the season's down stretch, both girls are back. Herndon coach Reggie Barnes helps the addition of the duo to his lineup will boost the Hornets as a true Northern Region contender over the remainder of the season.
Herndon, going into this week, carried a 7-9 overall record and a 4-4 mark in the Concorde District. The team has been led by such players as leading scorer and junior point guard Phyllis Martin (15 points per game average); freshmen sharpshooter Deborah Headen (13) and junior center Carlon Chambers (11 points, 8.2 rebounds). Herndon entered the season with five returning starters back from last year as well as five new players to the varsity.
"In terms of progress, we're pleased with how they've come along," Barnes said of his team. "Every night, someone is getting better."
<b>NOW, TWO MORE</b> players are entering the team's mix in Lewis and Hearns. Both players returned to the team last Friday night in Herndon's 54-49 loss at Centreville (11-6, 4-4). Lewis, a 5-foot-9 guard/forward player, scored six points in her first game on the court since early December. She missed five weeks of action after injuring her knee in the Hornets' second game of the season at Washington-Lee on Dec. 5. Herndon won that nondistrict game, 56-24, but lost Lewis for an extended time.
The question now is will Lewis be able to get into midseason form by the time the district playoffs begin Feb. 16? Coach Barnes believes so.
"I think by the time districts roll around she will be in the type of shape she wants to be," he said.
Barnes said Lewis was a positive presence on the team during those weeks when she could not play. Herndon's roster includes three sophomores and two freshmen and Lewis, during team practices and during games, encouraged them and offered strategy tidbits when she could.
"It's been real tough for her," Barnes said of Lewis not being available to play for most of the season. "But at the same time she has been a steady influence to [the younger players] on the team. She's a very good leader. She's kind of in that buff between the coaching staff and the players."
Hearns, meanwhile, has missed the past two seasons due to separate knee injuries. She tore an ACL during her first season, then injured her other knee last year as a sophomore. A power forward, Hearns saw her first game action against Centreville on Friday. She did not score, but got her feet wet.
"She did fairly well," Barnes said. "Her endurance was OK considering she's been gone for two years. She was mixing it up inside, hitting the boards and she even dove for a loose ball. She's got good skills and can step out and hit the 15-footer."
Both Hearns and Lewis have handled their injury situations well.
"They are both good girls and did not have a pity party for themselves, but asked what they could do to help the team," Barnes said. "They've helped in practice in drills and the team has encouraged them, too."
<b>HERNDON'S DISTRICT</b> wins this season have come against Fairfax — two victories, Robinson and Chantilly. Two of the team's district losses have come to Centreville by a combined six points. The Hornets lost their first meeting to the Wildcats, 50-49, at home on Jan. 5 before their five-point setback at Centreville last week.
Barnes, over the regular season's final two weeks and on into the playoffs, wants to see his team create the mood of games from the opening tip onward and to dictate the tempo of the action.
"We have to set the tones for our games and when we're playing the upper echelon teams, like [first place and unbeaten] Oakton, we have to match their intensity," Barnes said.
Herndon was scheduled to play district games this week against visiting Oakton on Tuesday, Feb. 3, and at Chantilly on Thursday night.
Fred Priester, the longtime Oakton coach, said Herndon has a talented squad.
"Herndon is a very tough team to play," Priester said. "They have really good athletes with Phyllis Martin, whom you have to contend with from the three-point line. And Alexis Lewis is back in their lineup. She's kind of getting back into game shape."
<b>Herndon Note</b>: Herndon's lone senior, center Lauren Amonett, recently earned a scholarship to play basketball at Salem International, an NCAA Division II school in West Virginia. She is expected to officially sign her letter of intent this April. Barnes said Amonett epitomizes a hard-working player. She played freshmen and junior varsity ball within the Herndon program her first two years. Last year as a junior, she made the varsity squad, but saw little playing time. This season, the front-court player has contributed to the Hornets' cause with solid play off the bench. She has also started a few games.