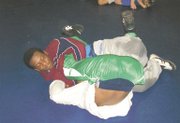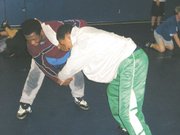 Almost a year after it happened, West Potomac senior John Rice still hasn't gotten over how his wrestling season ended a season ago. In one of the more frustrating moments of his life, Rice lost to a wrestler he had pinned in under a minute during the regular season. A win would have advanced him to the Northern Region Wrestling Championships.
"I choked at districts last year," said Rice during a break at a recent practice. "That's really been in my belly for awhile."
Fellow senior Sam Agyemang echoes a similar sentiment after losing by a mere three points in a match that would have guaranteed him a spot in the Virginia state tournament. Then there's senior Artis Rutledge, who still has regrets about being just an alternate for last year's regional tournament.
But with the 2008-09 wrestling regular season now complete, the time of redemption for area grapplers has finally arrived. This Saturday, West Potomac will compete in the Patriot District Wrestling tournament at Annandale High School, while their counterparts down the road at Mount Vernon take part in the National District tournament at Stuart High School.
"This is what keeps me going in practice," said Rutledge, who will compete in the 135-pound weight class. "We just know this is our last year and you don't want to end it on a bad note."
The three seniors have been a part of a successful West Potomac wrestling team, which is sporting a solid 9-4 dual meet record heading into the postseason. The Wolverines have recovered nicely after losing most of the eight wrestlers that made it to regionals a year ago.
<b>BUT THE WORST KEPT</b> secret in Northern Virginia wrestling is that the dual meet season doesn't have all that much significance, other than helping to prepare wrestlers for these upcoming season-ending tournaments.
With no dual-meet playoff format to reward teams, wrestlers fend for themselves on the mat. Seeding for the district, region, and state tournaments is decided by a combination of individual win-loss record and the manner in which those wins came by (pin, winning by eight or more points, or winning by less than eight points).
"It's an individual sport with a team concept," said West Potomac coach Casey Grubbs. "When you go out on the mat, you're wrestling for you. If you do your thing, the team will fall in line."
Grubbs thinks Agyemang, a 145-pounder with an impressive 18-3 record this season, has the best shot of any Wolverine wrestler to place at the district and regional tournaments to make it all the way to the state tournament.
He's also optimistic about senior 130-pounder Michael Tse (17-7 record) Rutledge (18-6), 152-pounder Rice (11-6), and 189-pounder Stephen Howell (19-4).
Over at Mount Vernon, coach Anthony McDuffie has been trying to cope with the possibility of a late-season malaise by taking to the outdoors, flipping a 300-pound tire a few times a week, running sprints on the bleachers, and in general adopting an "MMA training" philosophy.
"We needed a change of scenery to stay motivated," said McDuffie.
Last year Mount Vernon led by 23 team points heading into the final portion of the National District tournament, with eight wrestlers in championship bouts, only to succumb to Edison after just three wrestlers won individual titles.
This time around, Mount Vernon has seven wrestlers that should be top seeds in their respective weight class, including senior 103-pounder Chad Eason (25-6), senior 130-pounder Trevor Meadows (24-15), and junior 145-pounder Joey Moreno (25-2).
The top four finishers in each weight class from the district tournament move onto to the regional tournament on Feb. 14 at Fairfax High School. The top four at regions move onto the state tournament, scheduled to be held Feb. 21 at Oscar Smith High School in Chesapeake, Va.
But after last season's near misses and this year's grueling regular season, it's safe to assume nobody is counting their lucky stars just yet.