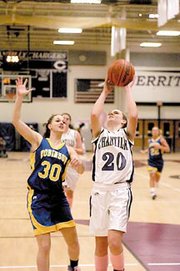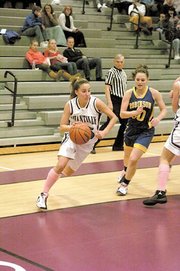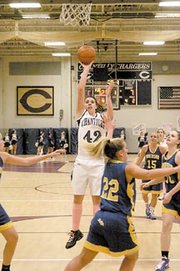 Like many high school coaches, Valerie Allen, the bench boss for Chantilly's girls basketball team, views her program as a company. If one of the employees forgets or neglects to do her job, the entire operation suffers.
And despite losing five straight games during an 18-day span in January, business was profitable Tuesday night at Chantilly High School, as the Chargers walked away with a 56-40 win over Robinson.
"We had a stimulus package going on," Allen, a first-year coach, joked. "The economy did much better. It's so nice to walk into the locker room and see them happy.
"But it's just one game. I have three more that I have to focus for and the next one is Herndon."
The Chargers ran their record to 9-9 overall, 4-6 in Concorde District play, and they'll host Herndon Thursday night for a 7:30 p.m. tip.
<b>ROBINSON RACED</b> out to a 7-4 lead Tuesday, but Chantilly closed the first quarter on a 14-0 run. In the second quarter, Chantilly led by as many as 13 points before Robinson fought back with a 5-2 run to close the first half.
In the third quarter, the Chargers outscored Robinson, 10-3, and led by as many as 20 points early in the final period. Junior Tamika Hamilton led Chantilly with 13 points and nine rebounds. Classmate Meagan Carey chipped in with 10 points and five boards, providing the Chargers with a dominant low-post option.
"We just came out strong and ready to play," said Hamilton, a slashing, do-it-all-type player who's starting for the first year on varsity. "We knew that we needed to have this win. We just came out and took it to them."
When the mid-season losing streak hit five, Allen and Co. decided to stop worrying about the past and focus more on the present and future. After all, those five games were winnable at one time but weren't anymore, thanks mostly to some inconsistent play that Allen feels the team has put behind itself.
"We sat down and talked about believing in each other and where we want to be," Allen said. "It's hard when everyone else is starting to creep up and you're sitting at the .500 level, you're like, 'Oh my God.' The pressure of needing a win to feel good … we had to remove that.
"I had to stop being a varsity coach. I had to teach more. I had to break it down more," Allen said. "We talked a lot about believing in each other and trying to get to a point where they understood it's not about where you start it's where you finish."
<b>THE CHARGERS STARTED</b> strong by winning six of their first eight games but began to hit a slump that started with a loss to Mills Godwin in the Chantilly Pohanka Classic, annually one of the area's toughest holiday tournaments.
That loss, though temporarily negated by a win over Yorktown the next night, sent Chantilly into the five-game district tailspin, losing to five of the other six Concorde teams. But prior to the Fairfax game on Jan. 29, Allen called the aforementioned team meeting.
With two more district games — they play Westfield next Tuesday — the Chargers simply want to "make noise" in the district tournament, earning a spot in the Northern Region tournament.
"We've had a pretty rough season in the district this year, but I feel like lately we've picked it up, coming back in the second half of our season and beating Fairfax and now Robinson," said senior Katie Stillwell, who finished with eight points against Robinson.
Stillwell, who also plays field hockey and girls lacrosse at the school, recently earned a lacrosse scholarship at William & Mary.
"We're picking it up," Stillwell added. "We're playing better defense and we're playing well as a team now."
And working well as a company, too.
"When you're a company, if one person lets go of the job, the company doesn't function," Allen said. "I'm proud of my kids because [against Robinson] every single one of them did their job."