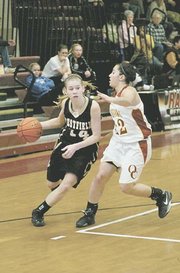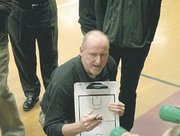 It's a label that Westfield girls basketball coach Pat Deegan would surely like to shake. Well, maybe not entirely. Just a minor tweak here and there.
When things have gotten tough this season for the Bulldogs — maybe a two-game losing streak, a bad quarter or two losses to district rival Oakton — Westfield has consistently managed to dig itself out of the hole.
The problem? Such resilience wouldn't be required had the team not put itself in the aforementioned positions to begin with.
Regardless, Deegan has his team at 13-6 overall, 7-2 in Concorde District play entering Friday night's game at Robinson. And though the Bulldogs have twice suffered back-to-back losses this season, both sets were negated by three-or-more-game winning streaks.
"They like to play the game," Deegan said. "If you like to play the game, resilience is something that comes along with it because it's fun."
"Even off the court we're all really good friends," junior point guard Shelby Romine said. "It makes it a lot easier to play together."
<b>WESTFIELD FOUND</b> itself trailing Oakton by eight after the first quarter of Thursday night's 51-43 loss. But all of a sudden the Bulldogs opened the second quarter on a 5-0 run, climbing to within three and prompting an Oakton (20-0, 9-0 Concorde) timeout.
Cougars coach Fred Priester has led his team to the past four Concorde District titles, as he was denied a fifth consecutive title thanks to a not-so-pleasant gift from Westfield in 2004. Furthermore, out of Oakton's past 77 district games, the Cougars have only lost three times — all to Westfield.
"They have a nice, young team," Priester said of Westfield. "I have a feeling that they're not going to go away. They're getting better every year, and if we play them again it'll be another war."
After Oakton built a 25-16 lead at halftime, Westfield bounced back. And this time a 7-0 run prompted another Oakton timeout. The Cougars would go to close the third quarter on a 12-2 spurt.
"You get a moment to collect," Deegan said of the beginning-of-the-quarter runs. "You get a moment to sort of recognize what was going on out there. They've got their composure and they come out and do the things they were supposed to do."
Westfield opened the final frame on a 5-0 run of its own before Oakton held strong the rest of the way. But in the Bulldogs' next two contests — home games against Fairfax and Centreville — Deegan's team bounced back with a pair of wins.
"It's a mentality," added Romine, who scored 10 points against Oakton. "We take the loss that night and we do what we have to do to fix it next time."
<b>A THREE-YEAR</b> varsity player, Romine is now the face of Westfield's team. She saw significant playing time during her freshman season and became a full-time starter as a sophomore. But this is the first year where Romine has been counted upon for everything.
And saying everything, that's not an exaggeration. In the first two minutes last Thursday, Romine grabbed a defensive rebound, initiated a fast break, set up the team's half-court offense and deflected a pass in the lane.
"I don't think there's a better point guard in the region," Deegan said. "We ask her to do everything. We ask her to rebound, defend, score, dribble and pass. We ask her to go to the cleaners."
Dry cleaning in hand, Romine is averaging 16.2 points, four rebounds and four assists per game this season. And on a roster that features only one senior, Romine is one of a select few with significant varsity experience.
No matter. Others have stepped up to fill out the box scores, which Deegan joked do not include grade levels when appearing both online and in print. One of those secondary scorers, sophomore guard Jessica McNamara, broke out of a shooting slump against Oakton and connected for a pair of 3-pointers.
"I was really excited because I've been off almost all season, and over the weekend I went and shot for a while," McNamara said of her 12-point outburst, which came after a weekend shooting trip with Romine to Hoop Magic in Chantilly to iron out some kinks.
"I finally got my shot back," McNamara added. "I was just confident, and I knew I had to let it go to keep us in the game."