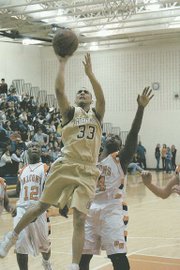 When opposing high-school boys basketball teams were beginning to figure out Broad Run's full-court pressing defense, the Spartans made some adjustments. Mainly, they dropped into a half-court defensive scheme that has stemmed off the other teams' scoring flows in recent consecutive Broad Run wins.
The Spartans' latest win going into this week came last Friday night when they put the defensive vice on Heritage in a 69-56 Dulles District road win. Broad Run had also played a solid all-around game in a 70-50 win at Briar Woods a week earlier.
The two wins came after a disheartening 26-point loss at first-place Dominion on Jan. 14 in which the Spartans struggled to make defensive stops against the red-hot Titans. But Broad Run (15-3 overall, 6-3 district) was much more stingy on the defensive end in the wins over Briar Woods and Heritage.
"I think our last two games have been pretty solid," said Broad Run coach John Costello. "Against Briar Woods we got a real good performance and against Heritage the same thing. The defense has been the real difference. Our half court [defense] is much better.
"Teams had done a better job against our press [so] we've done a lot less pressing and more half court defense," he said.
<b>OFFENSIVELY IN THE</b> win over Heritage on Friday, Broad Run received a balanced scoring attack as three players — junior forward Kevin McGaughey (20 points), senior guard Breon Earl (16) and sophomore forward Taylor Johnson (12) — were each in double figures. Senior guard Didier Saidi contributed seven points in the win. Broad Run led the Pride (3-15, 3-7) by a 35-25 lead at the half and continued to play well in the second half on way to the win.
"With three or four guys getting double figures a night, it's hard to beat a team when it's doing that," said Costello, whose team also received a balanced scoring attack in the win over Briar Woods on Jan. 23.
McGaughey, a 6-foot-4 forward, scored 17 points in the win over the Falcons before his 20-point effort — on eight-of-14 shooting from the field — against Heritage.
"He's a solid inside, outside type player," Costello said of McGaughey's game. "He doesn't force shots. He shoots only when he has a high-percentage shot. He's really been solid rebounding wise and defense."
<b>ONE OF THE KEYS</b> to Broad Run's good season has been the impressive play of seniors Greg Snow, Tim Sanders and Will Fieldo. As juniors a year ago, each of the three saw limited playing time. But they have all been in the playing mix this season with Fieldo giving the Spartans strong minutes at center position and guards Snow and Sanders both making healthy contributions in the backcourt.
Sander, 5-11, has started the past few games for Broad Run and made his biggest impact defensively.
"He has stopped the penetration of the point guards on the other team," Costello said. "He's done a nice job defensively."
Going into this week, Broad Run was tied for second place with Potomac Falls in the district standings, two games behind first-place Dominion (12-5, 8-1), a winner over Loudoun County last Friday night.
With just five district games remaining in the regular season, Costello said it is imperative his team stays hot if it is to have a chance of overtaking Dominion for the regular-season title.
"We pretty much now have to win out," said the coach.
Broad Run was scheduled to play district home games this week against Loudoun County on Tuesday and Park View this Friday night. Next Tuesday, the Spartans will travel to Potomac Falls.