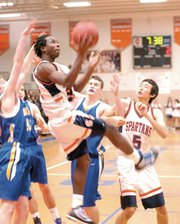 Sometimes when a team has a bad practice, a poor effort follows in the next game. At West Springfield, a bad practice led the Lady Spartans to a 55-24 victory over Robinson Secondary.
"We didn't have a good practice yesterday," senior forward Mel Todd said. "So we came out hard to make up for that and scored 55 points."
While tanking in practice probably isn't the formula head coach Bill Gibson is looking for, his team's play showcased how dominating the Spartans can be this season.
In the third quarter, the Spartans used their aggressive full-court press defense to take advantage of Robinson.
The result was a one-sided third quarter where the Spartans scored 22 points and allowed only two points to the Rams.
"With certain lines, we can be a good pressure team," Gibson said. "Sometimes it plays into us and what we want."
A benefactor of the up-tempo style of defense was sophomore April Robinson who netted a team high 18 points and five steals.
"They were reading our eyes," she said. "So it made it easy to pass around them, steal and get points."
While the up-tempo style of defense may not be a nightly occurrence, the team's point production has been a constant force.
West Springfield entered the Dec. 15 match-up with Robinson Secondary fresh off a 79-45 victory over Patriot District foe T.C. Williams on Dec. 16. Their season opener was a 61-50 victory against Westfield on Dec. 8.
"We've got a lot of great shooters who can work together," April Robinson said. "I know a lot of players can score so no one has to carry the team."
The girls aren't the only one aware of the entire team's ability to score.
"We're versatile and we have a lot of kids we can go to," Gibson said. "It's a major plus for us right now."
West Springfield's roster is also filled with a healthy mix of experienced senior players and up and coming juniors and sophomores.
"We're pretty deep," Todd said. "We can relieve the starters and it doesn't matter who it is that comes in."
But Gibson said that seniority doesn't necessarily mean playing time on the team.
"Whoever is playing well plays," he said. "We don't pick our line-up based on age, but that's the best part of this team. The seniors help the younger players and don't fight for time."
Gibson said that if the team wants to continue its strong play, it needs everyone to step up.
Todd is one player he's counting on.
"She's just turning a corner as a player," he said. "She's gotten better with finishing, she's very athletic and she's playing into herself now."
Todd finished the Robinson Secondary game with eight points and drained both of her free throw attempts.
Gibson said Todd showed some great things last year, "but she's finishing now and it adds a whole new dimension to her game."
With a game with Chantilly looming on Dec. 18 and Patriot District rival South County on Dec. 22, Gibson said he's still tinkering with his line-ups, trying to find the right fit for the team.
"Right now, we're figuring out the best line-ups for the best situations," he said. "It's our job to determine that and make adjustments offensively and defensively."
<sh>Rouse, Goel unable to complete comeback against Robinson.
<bt>Perhaps the West Springfield boys took a hint from the girls team when they chose to adopt a scrappy, full-court press defense in their match with Robinson Secondary.
After falling behind 36-21 at the half, the West Springfield team that was frustrated by Robinson's swarming defense almost completed a comeback.
"The coaches said we were only good when we were running around scrapping," junior guard Divya Goel said. "So we called more presses and we played harder."
The change from a half-court defense in the first half to a full-court press in the second half paid off as the boys chipped away slowly at Robinson Secondary's lead.
"We came out slow and you can't expect to win if you're down by 25 points," Goel said. "We had to get it going in the second half [with our defense]."
Lawrence Rouse took over the game in the fourth quarter, ending his night with a team high 27 points; Goel followed with 16 points.
"I'm very proud of how we came back in the second half," head coach Dick Wickline said. "I just wish we had played like that all game."
West Springfield's record drops to 1-3 this season. The Spartans next game is against Chantilly on Dec. 18, followed a Dec. 22 meeting with Patriot District foe South County before the holidays.