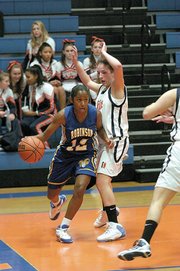 The Robinson boys' basketball game with West Springfield on Dec. 15 was a bit too close for Robinson head coach Brian Nelson's liking.
After jetting out to a 36-21 lead at halftime, the Rams, who had dominated with their size and shooting, watched as the Spartans chipped away at the lead.
"In the first 10 to 12 minutes of the game, we showed what we are capable of," Nelson said. "But we got complacent and we showed our inexperience."
When the third quarter ended, West Springfield had cut the Rams' lead down to 11, turning what started as a blowout into closely contested game.
Robinson was able to hold on to the lead — leading by a point at one stage of the fourth quarter — and claim a road victory against the scrappy West Springfield squad.
The Rams' record improved to 2-3 with the 65-60 defeat of West Springfield (1-3).
Junior guard Mike Rice led the Rams with 18 points and Matt Zanelatto and C.J. Cleaves finished with 10 and 14 points respectively.
Rice's strong shooting from all around the court helped to keep the surging Spartans at bay during the fourth quarter.
His 18-point performance followed a season high 24-point game against Fairfax, earning a glowing endorsement from his coach.
"[Rice] is a natural scorer," Nelson said. "But he's not a traditional scorer. He scores on a lot of garbage baskets, he's a great guy on ball reversals and he gets to the foul line."
With 81 points on the season, Rice is becoming one of the Rams' top scoring threats and the junior is just warming up before Concorde District play ramps up next month.
"I'm playing well and the team's playing great," he said. "It's going to be great leading us to the playoffs and the district tournament."
The Rams also showcased their physical style of defense that contained the Spartans for the first half.
When West Springfield entered the offensive zone, it wasn't long before two Rams surrounded the ball-carrier, trapped him and forced an awkward pass.
"We put five guys on the floor that bring a lot of intensity on defense," Nelson said. "When we [play as a team], we can defend a lot of teams."
With the Rams looking to even up their record at 3-3 on Dec. 18 against Lake Braddock, Nelson said the close call with West Springfield is just another block in building a winning team.
"This should make us hungry," he said. "We showed what we are capable of and what we look like when we don't compete."
<sh>Michals' tough play not enough to defeat Spartans
<bt>Robinson forward Christie Michals might have a few bumps and bruises on her body after the Rams' (4-1) 55-24 loss to West Springfield (3-0) on Dec. 15.
The sophomore guard spent much of the game low in the paint, drawing hard fouls as she tried to convert lay-ups and short jump shots to help her team chip away at the Spartans' large lead.
"It's the price you have to pay," she said. "You have to go up strong and expect contact. It's what you have to do to score."
While some players prefer to take clean shots from the outside or will shy away from body-contact, Michals said the Rams make it a point to learn how to draw fouls.
"During practice, we'll practice making contact and getting fouled," she said. "It helps us prepare for foul situations, so when they come up in the game we can use them."
Her play resulted in only five points against the Spartans, but her hard-nosed attack on the rim stood out among the Rams' top performers.
But Michals' five points and Lauren Denham's 10 simply weren't enough to overcome West Springfield's defense.
After two quarters, the Rams trailed the Spartans 21-16, one of the Patriot Division's top teams, but a 22-2 third-quarter meltdown put the Rams in a hole they couldn't climb out of.
Robinson fell victim to West Springfield's aggressive full-court pressure defense, leading to numerous turnovers, breakaways and a fast paced tempo that was outside the Rams' comfort zone.
Head coach T.J. Dade said the game exposed some weaknesses in the team and showed the young players what they need to work on.
"We didn't handle their pressure well," he said. "It exposed our youth and we couldn't handle them in the second half."
One point of frustration for Dade was the team's inability to create an inside shooting game during the first half.
"I don't know how many lay-ups we missed," he said. "We've got to get the ball inside and finish if we want to win."
Despite the lopsided loss, Dade said the game shed some light on how good the Rams can be this season.
"I saw that for a half we could play with anybody," he said. "Hopefully, we learn from it."
Michals said she pinpointed ways her team could improve.
"We have to start playing all four quarters hard," she said. "We also need to think about our game, not what the other team is going to do."