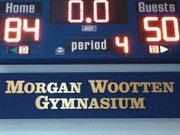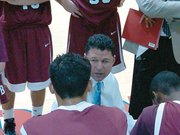 It's only the first quarter and DeMatha junior Quinn Cook already has 11 points against Bishop Ireton. He's made two 3-pointers and will end up knocking down a third before the period is over. But for this possession, Cook is going to pass the spotlight to one of his teammates.
Cook, ranked the nation's sixth-best point guard recruit in the class of 2011 by ESPN.com, lobs the ball junior Mikael Hopkins, who finishes the alley-oop pass with a dunk. Hopkins, by the way, stands 6-feet-8, weighs 210 pounds and is the country's eighth-best power forward recruit in the class of 2011.
The scoreboard reads 22-4, DeMatha, after Hopkins' dunk. Just below are the words "Morgan Wootten Gymnasium," reminding onlookers of the great Stags coach who retired in 2002 as the nation's all-time wins leader in high school basketball. (He's currently second on the list.)
Welcome to the DeMatha Catholic basketball experience. The Stags are ranked among the top 25 teams nationally by various media outlets and have long been a top-shelf program. This year's team has nine players that stand at least 6-4, five who are 6-7 or taller and a seemingly endless supply of athleticism coming off the bench. Eighth-year head coach Mike Jones said this year's team has a chance to be something special.
ON THIS PARTICULAR night, Dec. 15, DeMatha jumped out to a 35-9 lead, led by as many as 43 points and won, 84-50. The team on the losing end of that lopsided score, Bishop Ireton, doesn't have tradition on its side. The Cardinals won a combined 14 games in the previous three seasons. It doesn't have a bench full of Division I prospects. The Cardinals rely on two or three players for most of their scoring. It doesn't have a gym named after a famous coach. What the Cardinals do have is a fiery head coach in his first year with the program and a group of players who want to turn the Ireton program into a winner.
While Bishop Ireton is unlikely to reach DeMatha's level, the Cardinals took another small step toward becoming a team capable of competing in the uber-tough Washington Catholic Athletic Conference. Bishop Ireton didn't back down from the Stags, putting forth an aggressive effort for four quarters. The Cardinals were outscored by only five points (39-34) in the second half and closed the game on a 10-1 run.
Was it a win? No. But sometimes moral victories count for something during the early stages of a program revival.
"You look at segments and increments," Cardinals coach Neil Berkman said of how to evaluate a team's effort when facing a powerhouse like DeMatha. "In the second half we lost by five, for example. Granted, a lot of their second and third stringers were in the game, but they started with their starters. I'm proud of my guys because they never quit. They played for 32 minutes. We were taking charges late in the fourth quarter and we just kept playing and kept playing.
"You've got to put your head down and evaluate yourself against yourself. Obviously that's a huge yardstick. DeMatha's one of the best programs in the country, they deserve all their success."
Bishop Ireton's best quarter was the fourth, when the Cardinals outscored the Stags, 25-17. Bishop Ireton trailed 67-25 entering the final period, but Cardinal juniors Patrick Hanafin and Antonio Rouse combined for 16 points in the quarter to help chip away at the DeMatha lead. Both players finished with 17 points.
Both players were aggressive in the second half and got to the free throw line. Hanafin made 8 of 9 second-half free-throw attempts. Rouse was 4-of-4 in the second half and 6-of-6 for the game.
"It's tough. We knew we were the underdog going in so we just wanted to play hard," Hanafin said. "There's nothing you can do but get better, as long as you try hard. It's a learning experience."
Dematha's superior talent took control early. Cook buried 3-pointers, Hopkins dunked and blocked shots, and the Stags led 15-0 midway through the first quarter. DeMatha's aggressive defense led to contact at times, and the vocal Berkman tried to protect his players by voicing his displeasure to officials over non-calls. Hanafin said it feels good to know one's head coach is watching out for him.
"All the kids read the papers, all the referees read the papers and everybody knows how good DeMatha is," the coach said. "People are talking about them going undefeated, which I think will be difficult to do in this unbelievable league. But I think it's good [to face a team like DeMatha] because we're trying to emulate that success at a level that is possibly unreachable, but we're trying to get there. It's like … the light at the end of the tunnel. This is where we want to get to down the road and play that high level."
Rouse said the Cardinals settled down as the game progressed.
"Maybe the first minute of the game we were shook a little bit," he said. "But in the second half we just went out there and played. … We came out a little timid, but I don't think we were scared or intimidated."
Berkman pointed to junior Matt Barnwell taking a charge in the fourth quarter as another positive. Berkman said the team keep track of how many charges the Cardinals attempt to take, adding that taking a charge is the consummate team play.
The loss dropped the Cardinals to 3-3, 0-1 in the WCAC. Bishop Ireton won three conference games in the three seasons prior to Berkman's arrival.
"It's one game out of 18 … they have to come back to our place," Berkman said. The league is unbelievable and we're trying to win league games, we're trying to win games, we're trying to play together and we're trying to really teach guys how to play much harder than they're used to. … We're changing a culture and slowly but surely we're going to do it."
After the game, as coaches from Kansas and Notre Dame walked the halls of DeMatha, Stags coach Jones said the Cardinals are on the right track.
"First of all, Coach Berkman is very well respected," Jones said. "I've known of him for years, I've never had much interaction with him. He's a very good coach. I do believe that one of the things he's doing that's very smart is he's changing the whole mindset of the kids at Ireton. If you look at the freshmen, the JV and the varsity, just the way they played us, they came at us. They didn't sit back on their heels. They didn't say, 'Oh, we're going to lose anyway, so let's try not to let it get out of hand.' They came at us and played.
"Just that mentality I think is going to be something that before too long you're going to see [results from]."
Bishop Ireton will host St. Paul's on Dec. 30.