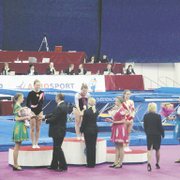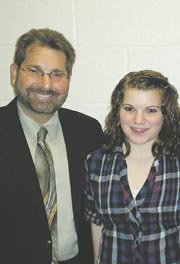 Annalise Tortorich rode out Hurricane Katrina in her Baton Rouge, La., home with her mother Liz and sister Katie, watching as water seeped into their house, knocked over trees and upended their lives forever.
The nightmare that took over 1,000 lives and changed the southern Louisiana landscape also proved to be the catalyst that helped make Annalise the No. 1 ranked 15-year-old power tumbler in the United States.
The combination of a damaged home and a damaged gymnastics community was the first step in moving Annalise to new heights in the power tumbling world.
"There weren't any really good coaches left after [Hurricane Katrina]," Annalise's father, Tommy Tortorich, 56, said. "The best ones weren't available anymore. They all moved for new jobs."
The slow recovery of the greater New Orleans area also began to wear on the Tortorichs.
"After the hurricane, New Orleans was a very depressing place to be," Tommy Tortorich said. "No one felt good about themselves or about the area. Nothing was happening in helping to rebuild the area."
With a lack of coaching near Baton Rouge and a desire to find a new beginning, the Tortorich family packed their bags in 2006, and searched for a new life and a new gym.
They found refuge in the Capital National Gymnastics Training Center in Burke and settled in Centreville.
"I just thought of it as a new beginning," Annalise said. "I could start fresh."
The Capital National Gymnastics Training Center proved to be the perfect place for Annalise to improve her power tumbling skills, a sport that she describes as "floor exercise without the dancing."
"I just really like the coaching here," Annalise said. "They're willing to help you if you need it, they know a lot and you can grow."
THE SPORT takes place on a strip, much like the vault, but instead of using an apparatus to launch into the air, the tumbler uses momentum and leg strength to soar through a dizzying amount of back flips, twists and tumbling techniques.
The Centreville High School freshman soon found herself getting back into the swing of the sport, attending competitions and growing accustomed to her new surroundings.
Annalise then entered into a stressful and time-consuming training regimen that takes up most of her week.
"It's hard," she said. "I wake up, go to school, go home, have two or three hours for homework and then train for two and a half hours."
The young gymnast said toiling over school papers and practice is worth the sacrifice. "I like being really high in the air," she said. "It's just a lot of fun doing the flips and competing."
The dedication is paying off. On Nov. 19, Tortorich stood atop a podium in St. Petersburg, Russia and accepted a gold medal for power tumbling in the girls' age 15-16 group at the World Age Group Trampoline and Tumbling Competition.
How does someone so young deal with the title of best in their sport?
Annalise deflects attention. "I don't like being full of myself," Annalise said. "When I see people who brag about it, I just don't like it. I want to keep it to myself."
Even her friends notice the hushed way Annalise carries her title.
"It's not like she leans into me to whisper, 'Hey, I'm the best power tumbler in the world,'" Annalise's best friend Samantha Mutter said. "She's just Annalise to me, but it's really cool what she does."
HER FATHER understandably isn't quite as restrained.
"I'll tell everyone," Tommy Tortorich said. "I'll stop people on the street and tell them."
Annalise rolls her eyes at her dad, laughs and whispers something into her friend's ear. They giggle, as young teenagers do, but Annalise admits that sometimes she doesn't feel like "the best."
"Everyone just tells me I can do it and that I'm the best," she said.
She admits to feeling butterflies in her stomach when facing down rival tumblers.
"It's really nerve-wracking," she said. "People from different countries are there and you're competing against the good [competitors from] countries like Russia. I think I don't have a chance [when I'm competing]."
For now, Annalise is just enjoying her title and looking forward to future competitions.
"I just love the sport," she said.