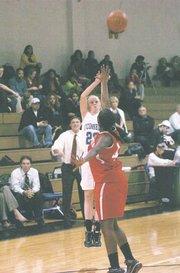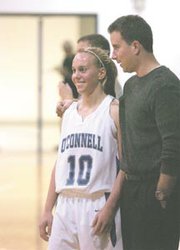 The Bishop O'Connell girls basketball team spent much of its Dec. 14 game against St. John's firing blanks. The Knights missed 28 of their 36 3-point attempts, including 12 of 14 in the fourth quarter, and lost by 40 points. But head coach Jimmy Brown won't apologize for his team's performance during the 88-48 defeat.
He's too busy telling the Knights to keep shooting.
Brown knew there would be nights like this when he changed the team's offensive philosophy prior to the 2008-09 season. An undersized team with a perimeter shooting touch, Brown transformed the Knights from a team struggling to execute in a traditional offense to a 3-point shooting machine. O'Connell knocked down 251 triples last year and won 17 games — nearly doubling the team's win total from the previous two seasons combined.
This season, O'Connell won four of its first five games. It seems so simple when shots are falling and the Knights are winning.
"If we shoot the ball well, I really believe that we can compete with most anybody," Brown said. "But we've got to shoot it well."
But what happens when the Knights go cold?
Forty-point losses can happen, especially when facing an uber-talented opponent like St. John's. But Brown is fine an occasional blowout defeat. What's important to the sixth-year O'Connell head coach is how his team handles the off nights — games when the Knights seemingly draw nothing but iron. Brown, who played high school basketball in Salisbury, Md., wants his players to hustle, maintain a positive attitude and keep shooting.
No matter how bad it gets.
"The one thing I could do when I played was shoot the basketball," he said. "I loved the 3-point line. It's always intrigued me. … I was always nervous when I played that if I missed a shot or got the ball stolen that I was going to get yanked, so I never want our girls to feel that way. If you miss a shot, it's OK, because you're going to make a couple more later. You're going to make more plays than you are not."
WHILE EVERY Knight is capable of shooting from the perimeter, Brown said senior Sarah Jones is at the top of the list. But the left-hander struggled against St. John's, finishing with two 3-pointers and eight points while being scouted by the University of Mary Washington. After the game, Brown spoke highly of how Jones handled her performance.
Mary Washington comes "out to watch her play and she knows this and she didn't shoot it well — at all," Brown said. "But here she is, cheering for her teammates when she comes out of the game as a senior leader. She's trying to battle a [St. John's] girl that's going to play Division I basketball on the glass, sometimes unsuccessfully, but she's in there giving that effort and it's going to carry over to everybody else on that team once they see that."
Jones appreciates Brown's support and realizes a rough shooting night is no reason to stop contributing elsewhere.
"Our coach just tells us to keep shooting because it will come," she said. "No one has an off night, really. For me, I just tell myself to just work harder and get rebounds, and on defense just get steals and stuff and it will come for me. … It definitely helps because we know [Brown] has faith in us. Even when we don't make them he'll keep encouraging."
Nicole Carty led O'Connell with 16 points against St. John's. The sophomore connected on five 3-pointers and was the only Knight in double figures.
"Last year we put her on the varsity and we didn't play her as many minutes as I should have," Brown said of Carty. "But now we told her at the beginning of the year, 'Listen, you're going to play and you're going to play quite a bit and there's no quick leash. Just go out there and do what you do."
Kara DeGuisto scored seven points and knocked down one 3-pointer. DeGuisto, a freshman, is one of the team's go-to scorers.
"Here she is playing against girls that are two or three years older, sometimes, and she's getting double-teamed and here's the coach saying there's no help coming," Brown said. "If she can get past this pressure that [St. John's] put on her tonight, then she can face anybody in the league, in my opinion. It's about growing up and she's done a great job for us as a freshman."
DEGUISTO SAID the Knights look to Brown to keep their spirits up through rough shooting stretches.
"It's kind of tough at first because you feel like you can't shoot because you're not making them," she said. "But eventually if you just keep shooting — he'll keep encouraging us to keep shooting — and they just keep falling, eventually. … We rely on him a lot for mental support. If our shots aren't going in, he'll tell us to keep shooting, where as other coaches will just say, 'Fall back,' and just try to swing it around. But he tells us to keep shooting and it always works."
The St. John's loss dropped O'Connell's record to 4-2. Through six games, the Knights were 45-of-188 from 3-point range for a 24-percent clip. Jones had a team-high 12 3-pointers made, while DeGuisto knocked down 10 and Carty nine. Seniors Shannon Tumelty and Colleen Bannigan, juniors Courtney Warren, Katie Flach, Meghan Gadell, Megan Nieto and Lauren Albrittain are also potential 3-point shooters for O'Connell.
Brown got the idea to switch to a 3-point happy offense when the Knights cut a 19-point deficit with five minutes remaining down to a one-possession game with six 3-pointers against St. John's near the end of the 2007-08 season.
"I said [to myself], 'Jimmy, you idiot, why don't we play like this for a whole year?'" Brown said. "[Before the 2008-09 season] we said, 'You know what, we're going to just play like this: We're going to play with five guards and take our deficiency, which is our height, and make it an advantage on the offensive end because now their bigs are going to have to run at our little girls. If they're playing close-out basketball, we've got a chance to get them in foul trouble and make some shots.'
"It's our secret weapon. We call it the 'bolt of lightning.'"
When things are going well, O'Connell can light it up from 3-point range. But how the Knights react when shots aren't falling that will play a big role in determining how far the team can go.
"It's a work in progress because you've still got people that will say, 'You can't take all these shots,'" Brown said. "When it looked like it did tonight, people will say you can't get in a running game with [St. John's]. Well, this is what we do. It doesn't matter who we play, this is how we want to play — we want to shoot shots if we're open."