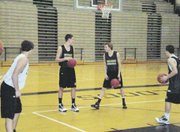 Westfield forward Danny Fenyak groaned and laughed when asked about the boys' basketball team's start to the 2009-10 season.
As quarterback of the Westfield football team, Fenyak watched as his football team started the year 1-4 in a string of heartbreaking close-but-no-cigar losses.
Now Fenyak has a serious case of déjà vu as his basketball team is 1-4 after another similar string of close games.
"I looked at the record and we were1-4. 'I was like are you serious?'" the senior said. "It's just like football season."
The record comes courtesy of losses to St. Stephens/St. Agnes (64-52), a last-second loss to West Springfield (43-42), an overtime loss to Langley (47-45) and the most recent defeat to Hayfield (47-40) on Dec. 11.
Of course the upside of Fenyak's first 1-4 season with the football team is that the Bulldogs rallied to capture their sixth Concorde District football title. Now, the former quarterback is looking for a similar finish with the basketball team.
"I know we're going to be really strong this year," Fenyak said. "We're a very talented team. We're going to get it going."
Getting the team on the right track is something that head coach Doug Ewell is striving for as December ends and Concorde District play picks up in January.
"We're off to a non-traditional slow start," he said. "We've been in every game and our kids are working extremely hard, but we have to keep on keeping on."
BUT BEING in every game isn't enough for Ewell. If the team wants to see success, it needs to take every minute of the game seriously.
"We've had two games where we had a lead with less than 10 seconds left and came up short," he said. "It takes 32 minutes of basketball to win, not 31 and I think [the team] understands that."
Another area the team needs to find success with is helping to develop younger players and acclimate them to varsity-level play.
"We have a lot of inexperienced kids on the team," Ewell said. "It's a young roster, but we have to focus on working as unit."
Most importantly, Ewell just wants to see his team taste winning before January's tough Concorde District schedule begins.
"We really need to get a win," he said. "It might help us get up because when district play starts, we need to be up."
In order for the Bulldogs to replicate the success of their football team, Ewell said the players, young and old, need to step into leadership positions.
ONE OF THE TEAM'S top young talents is 6-foot 9-inch sophomore center Zach Elcano.
"We run our offense through him," Fenyak said. "We really work him in our game plan, so for him to do well is really big for us."
Elcano played one year of freshman basketball before being added to the varsity roster, but he said he's transitioned well between the two levels of play.
"I played in the spring and fall with [the team] so I'm used to the speed," he said. "But there's tougher opponents and everyone's a good team. No team is easy."
Westfield rounds out its December play with games against Lake Braddock (0-3) on Dec. 15, South Lakes (1-1) on Dec. 16, South County (2-2) and Battlefield (0-3) on Dec. 22