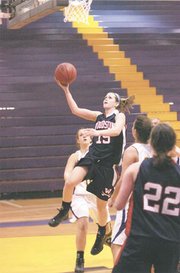 In one year's time, W.T. Woodson basketball player Melissa Gallo expects to be playing with Boston University's basketball team, hoping to make an impact in her freshman year.
But before Gallo can start thinking about draining jump shots as a Terrier, she still has unfinished business as a Cavalier.
"I'm looking forward [to college]," she said. "But I have things I need to work on here."
The talented guard has been an offensive catalyst for the Cavaliers in her three years of varsity play. For her final season at Woodson, the senior is looking to add another element to her game.
"I've really tried to focus on defense," she said. "I'm a scorer, but working on my defense is a priority."
Despite the talk about defense, Gallo's recent performances show she's still going to be a dynamic scoring threat.
On Dec. 8 against Fairfax, Gallo racked up 19 points in the Cavs' 60-56 loss. The momentum carried with her to the Cavaliers' 61-35 crushing of Patriot District rival Lake Braddock on Dec. 11 where she scored 15 points.
With defense on the mind, but point scoring in her blood, what more could Gallo do to help the Cavaliers chase a Patriot District and Northern Region championship?
"I'm being more of a leader on the court," she said. "It's my senior year and it's a role that I've been in before, but I need to do it for the younger players."
Head coach Pat Neri said the lessons Gallo can teach now will be echoed throughout the program in future seasons.
"[The younger players] see her working hard in practice and her devotion," Neri said. "Younger players come up to me and say 'What do I have to do to be like Melissa?'"
The answer to that question is simple, he said.
"I tell them to go ask her," Neri said. "Ask her how to handle the ball, or shoot or do what she does."
The older-sister vibe Gallo gives off at practice is the result of her own experiences as a budding freshman basketball player.
"I was a freshman on varsity, so I know how to treat [younger players]," she said. "I want to treat them the way I'd want to be treated if I were them."
Another attribute that Neri sees in Gallo is her ability to act as a coach on the floor.
"She can look up at the clock and recognize the situations," Neri said. "She knows exactly what I want without me telling her and [she can] get the kids to play that way."
With a 2-1 start to the season, Neri said he's impressed with how his older players have meshed with younger players.
"I'm really excited about the young kids and the way they've blended in," Neri said. "There's a very good chemistry on the team with our seniors and our freshmen."
The Cavaliers have five seniors on the team, but with Gallo's guidance and continued chemistry between the two freshman and two sophomores, Woodson's team could be building something special.
"This is the best depth we've had in a few years," Neri said.