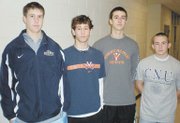 Even though 2010 will be the last season that Centreville baseball players Ryan Ashoosh, Connor Bach, Chris Campbell and Andy Viands play together as teammates, the four seniors might cross paths in the collegiate ranks.
Ashoosh, Bach, Campbell and Viands have signed to continue their baseball careers in college, with three of the players heading to Division 1 programs.
"It's very rewarding as a coach to have four guys moving on [to college]," head coach Morgan Spencer said. "It's part of the reason you take this job. To help students play college baseball."
Left-handed pitcher Ryan Ashoosh will be playing with the University of Virginia in Charlottesville, one of the state's best NCAA baseball programs.
"I liked the coaches and everything about the program was really nice," Ashoosh said. "I liked how my parents could come down and see me and still enjoy watching me play baseball.
Ashoosh, who was named co-pitcher of the year in the Concorde District in 2009, said he also is looking forward to facing Virginia Tech in the annual match-up between the two ACC rivals.
Connor Bach will be playing his college ball at the Virginia Military Institute in Lexington.
"I liked the scholarship that they offered me," Bach said. "It will also keep me in shape and I'll have an option to work in the military if [baseball] doesn't work out."
The 6-foot 4-inch Bach was a second-team All-Concorde District selection as an outfielder last spring. Bach is also the second Wildcat pitcher under Spencer to play at VMI. The first was 2007 graduate Ryan Barefoot.
Brian Campbell, a 6-foot 5-inch shortstop, will attend Mount St. Mary's University in Emmitsburg, Md., to play his college ball.
Campbell is a two-time All-Concorde District selection and is expected to be one of the top defensive shortstops in the Northern Region.
"I liked the coaches and the atmosphere there," Campbell said. "The coaches told me I might have a chance to play next season."
Second team all-district second baseman Andy Viands choose Christopher Newport University in Newport News as the next destination for his baseball career.
"It's a nationally ranked Division 3 program," Viands said. "That drew me there. It's also a beautiful campus and the academics were good. It's the school that fit me perfectly."
Viands led the Wildcats in 2009 in batting average (.386), hits (27) and stolen bases (5) as well as finished second on the team with a .421 on-base average.
Christopher Newport is a member of the USA South Conference in Division 3 baseball.