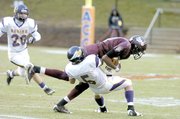 Lake Braddock head coach Jim Poythress knew his team wanted to fight. As he looked into his players' eyes at halftime of the Virginia Division 6 AAA state finals on Dec. 12, he saw a team still spent from a week of short rest.
"One thing I've been able to do all year is look in my guys' eyes and know where we were," he said. "I felt like…they were drained at the half. They were trying to do everything they could to come back and win the game, but they were just drained."
The Bruins had only four days to prepare for the school's first appearance in a state finals at The University of Virginia's Scott Stadium in Charlottesville. Lake Braddock's state semi-final game was originally scheduled for Dec. 5, but due to weather and field conditions, the game with Battlefield was postponed to Dec. 7.
The Thomas Dale Knights from Chester, who played their state semi-final game on Dec. 5 against Oscar Smith, had a full week to prepare for Lake Braddock's high-flying offense.
Poythress said the short week of preparation may have played a role in the Bruins' slow start in the state finals.
Thomas Dale got an early jump on the Bruins with two touchdown drives in the first half and never looked back, defeating the Bruins 35-21.
"I didn't feel like going into the game we would give up the rushing yards we did," Poythress said of Thomas Dale's 249 rushing yards.
The second half didn't start any better for the Bruins as the Knights put together another touchdown drive and intercepted a Michael Nebrich pass for a touchdown.
"I knew that we had to score offensively," Nebrich said. "I forced the interception a little bit."
Nebrich was picked off three times in the game, ending a strong stretch of passing where the junior had been intercepted just five times in the past nine games.
Despite the turnovers, the junior quarterback was able to put together three touchdown drives in the game, but the spread offense that had dazzled Northern Region opponents looked anemic against Thomas Dale's 3-4 defense.
"We tried to do everything we could," Poythress said. "We changed our blocking scheme, our slants, nothing got us going. It just wasn't our night."
Further adding to the frustration was a controversial missed fumble call. During a 73-yard touchdown drive, Bruins' defender Nate Fleming forced a fumble that would have stopped a Thomas Dale scoring drive.
Instead of giving possession to the Bruins, referees called the Thomas Dale runner down and placed the ball at the 1-yard line.
A video replay of the play brought out boos from the Lake Braddock fans, but Poythress said the fumble wasn't the reason for the loss.
"We could've had the break and maybe it would have made a difference," Poythress said. "Maybe we would have gotten some momentum and maybe things would have changed, but let's not forget they drove it right down there."
The game ends a season that saw the Bruins transform into state title contenders thanks to an infusion of life into the offensive, courtesy of assistant head coach Bill Renner's spread offense.
The Bruins also were able to avenge their two losses to Woodson and Robinson during the regular season in the regional playoffs.
"I'm very proud of our kids," Poythress said. "We had a heck of a run, but it seemed like we ran out of steam."
For Nebrich, the disappointing loss will serve as a motivator for his upcoming senior season.
"I'm going to take what I did this year and implant it into next year's team," Nebrich said. "We're going to be back next year, I promise you that."