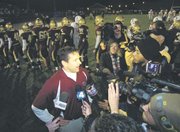 Just as high school football teams change in personnel on a season-by-season basis, so often does a team's personality. Such is the case in regards to the Broad Run High program. A year ago, the Spartans were an emotionally, highly-charged squad that went a perfect 14-0 and captured its first-ever state AA title. This year's team, in contrast, was more reserved in its demeanor.
But what remained the same for the 2009 Spartans was their will to win and their cohesiveness as a unit. For the second straight autumn season, Broad Run ran the table by defeating every opponent it faced – 10 regular season games and four playoff affairs. The Spartans' brilliant campaign concluded last Saturday evening with a stirring, 21-16 triumph over Amherst County. The title game was played at Virginia Tech's Lane Stadium, in Blacksburg. It marked the second straight year in which Broad Run defeated the Lancers, members of the Seminole District, at the state finals. A year ago, the Spartans defeated Amherst, 13-0, in Lynchburg.
"Last year's team was very intense, excitable," said Mike Burnett, Broad Run's head coach. "They really played hard. This group is very calm. Their personality is not loud. They don't get up and scream a lot. They are loose, even in big games."
Broad Run's laid back but determined team personality was a key component on Saturday. When the Ashburn team's star running back, senior T.J. Peeler, was taken out of the game following a second quarter knee injury that occurred while he was playing his linebacker position on defense, it could have spelled doom for the Spartans. Peeler, who had rushed for 74 yards on 15 carries up to that point of the game, was never able to return and spent the second half on crutches watching and encouraging his teammates from the sidelines.
"He had to be disappointed, but he certainly seemed upbeat," said Burnett, whose team was in a 7-7 tie at halftime. "He wanted this [win] for his teammates."
Broad Run remained composed following the injury , which occurred with just less than five minutes remaining in the second quarter, and went on to win the game. Leading the way was sophomore quarterback Connor Jessop, whose older brother, Chris, was the Spartans' senior signal caller during their state championship run a year ago.
Connor, with his game-breaking teammate no longer in the backfield, stepped up big time, methodically guiding his team to a strong second half and another state crown. Jessop tossed a 12-yard touchdown pass to sophomore running back Derril Thomas in the third quarter which, following a Spencer Martin extra point kick made the score 14-7 Broad Run.
Amherst pulled within 14-10 with a field goal in the fourth quarter, but Jessop all but helped the Spartans clinch the game when he connected on a 25-yard scoring strike to senior David Weaver (5 catches, 85 yards) with eight minutes, five seconds remaining in the game. Martin, a senior, converted his third and final point-after kick of the night and Broad Run held a 21-10 lead. Amherst would score again but it was not enough to overcome the deficit.
Jessop, who had opened the game's scoring in the second quarter with a 12-yard touchdown pass to senior wide receiver Adrian Flemming, completed 12-of-20 passes for 135 yards and three touchdowns.
"He's very calm," said Burnett, of his quarterback. "He's not an excitable person and he's able to keep control of himself. That makes him a special player. Offensively, everyone played their role. We had four or five kids who caught the ball and we ran the football well."
Amherst quarterback Mario Vaughan, meanwhile, ran for 129 yards and two touchdowns as the Lancers accumulated well over 200 yards rushing as a team. But Vaughan threw for just 29 yards with a pair of interceptions.
Burnett said the Spartans' defense converged well on the ball to make tackles.
"The defense really swarmed to the ball," he said. "We got 11 players after the football. They had some great running backs."
Burnett was thrilled for his team's success, particularly his 27 seniors.
"It's hard to believe how far these kids have come," said Burnett, of his 12th graders. "It's a real testament to the work they've put in the last four years.
The coach said his team never got caught up in trying to live up to the 2008 team's success. As the wins piled up this season, Broad Run never put extra pressure on itself to stay undefeated. The Spartans simply went about their business week by week.
"This has been a great team all along," said the coach. "I don't think they were fazed at all. They're very selfless kids. They looked at each game, played their hardest and didn't say [overconfidently] they could beat everyone. Their certainly could have been some games we lost. But they persevered.
"I really felt we had a strong team [from the start] but you don't think you'll win every game," said Burnett. "So many things have to go right to have a perfect season. T.J.'s injury was the really first big injury all season."
Burnett said it was a great feeling being on the sideline for another state championship game.
"You kind of feel, `am I really here?'" he said.
Following the game, Burnett told his team they will have this championship season to always cherish.
"Winning this game is not about the trophies, rings or patches on a jacket," he said. "It's about the memories. We're really blessed and fortunate. They'll have these memories all their lives."