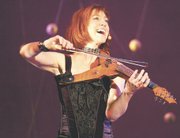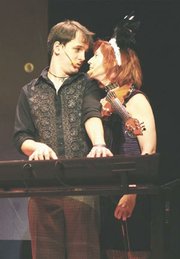 Is GrooveLily a rock band or is it a theater troupe? Does it matter? No! This becomes clear as the three-member ensemble performs their one-act concert musical "Striking 12" at Arena Stage's facility in Crystal City where they will hold forth through this weekend.
The blend of mod/pop/rock music led by a distinctive electric violin and inventive lyrics telling an entertaining tale with wit and clarity results in a fun evening of music, comedy, drama and charm.
The three performers are: electronic violinist Valerie Vigoda; her keyboardist husband Brendan Milburn; and inventive drummer Gene Lewin. All three help tell the story and sing the songs as the spotlight shifts back and forth among them. Their exchanges are bright, literate and fun as they work their way through a snappy version of an updated Hans Christian Andersen fairy tale.
The tale here is "The Little Match Girl" but the show uses that trifle of a story as the jumping-off point for a story of a "Grumpy Guy" who tries to avoid any celebratory gatherings on the last night of the year. A visit from a door-to-door saleslady peddling strings of lights as a cure for "SAD" (Seasonal Affective Disorder — depression due to the lack of sunlight) brings to his mind a parallel between the visitor's plight selling lights when everyone else is partying, and the Hans Christian Andersen tale — until he actually reads the story and finds its ending incredibly sad — which is not the same as "SAD."
Vigoda's six-string electric violin provides a unique sound for the group. She can make it seem like a whole string section with its electronic reverberation and delay capability, and her vocals are lovely when that is called for and an all-out wail of rock for the harder moments. She plays the light saleswoman/match girl and provides some of the narration as well.
Milburn provides both piano-like melody effects and bass-like percussive figures from his electric keyboard, which is programmed for many effects triggered by his nimble fingerwork. He's the "Grumpy Guy" and helps out with the narration too.
The roles in the story have been carefully matched to the personalities of each of the members of the rock group. The drummer, Gene Lewin, whose personality is the most distinctive, provides a good deal of the humor that makes the piece so unique. He's no slouch as a drummer, either. His beat drives the group and his solos exhibit not only technical skill but impressive rhythmic logic, making them exciting and well worth the amount of time devoted to them.
Charm is at the heart of the appeal of this hour and a half, intermission-less concert show. The script is by Milburn, Vigoda and Rachel Sheinkin who won a Tony Award for her book for the musical "The 25th Annual Putnam County Spelling Bee," which also relied a great deal on charm to make a slender story a satisfying evening of theater.
The group has been together for nearly 15 years and their collective career has been accelerating over the past five or so with their increasing involvement in theater. "Striking 12" was their first "concert musical" and it earned them an off-Broadway run in New York. Since then, they have produced a score for a musical titled "Sleeping Beauty Wakes" at Deaf West in California, the company that had such a big hit with the half-hearing, half-signing staging of "Big River" a few years back. They have also provided the score for a production of Shakespeare's "A Midsummer Night's Dream" at the Paper Mill Playhouse in New Jersey.
The group is only here for a short stay with performances this Thursday, Friday and Saturday but they have scheduled three shows for Saturday so it should be fairly easy to find a convenient time to catch this engaging concert musical.
***
Brad Hathaway reviews theater in Virginia, Washington and Maryland as well as Broadway, and edits Potomac Stages, a Web site covering theater in the region (www.PotomacStages.com). He can be reached at Brad@PotomacStages.com.