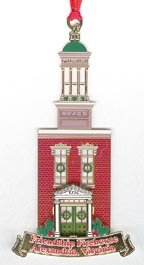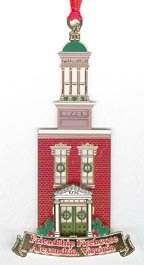 Celebrate the holiday season and Alexandria's firefighting heritage with the newest collectible ornament from the Office of Historic Alexandria. The 2009 ornament of the Friendship Firehouse reflects the cupola restoration completed earlier this year. The commemorative ornament features an etched brass-finish design of the museum entrance decorated with festive holiday greenery. Each ornament costs $16 and comes in an embossed gift box.
The ornaments will make memorable gifts for family and friends this holiday. Order your 2009 ornament online or stop by Gadsby's Tavern Museum, The Lyceum, or another Historic Alexandria museum gift shop. Call 703-838-4242 or visit www.historicalexandria.org.
The ornament shows the original color of the historic cupola of the Friendship Firehouse Museum, located at 107 South Alfred Street, which was discovered during a six-month restoration. Through analysis of paint chips, consultants determined that the cupola was originally painted a shade of brown. As a result of this discovery, the white cupola was repainted with a custom color that matches the original paint.
When constructed in 1855, the firehouse was built and decorated in an urban Victorian manner. The brownish paint identified as the first finish was very commonly used during the Victorian era to simulate brownstone. Further analysis revealed that the date of Friendship Company's founding, numbered "1774" on the street side of the base of the cupola, was also originally done in gold leaf. The 2009 ornament reflects both of these significant discoveries.
The Friendship Firehouse Museum, located at 107 South Alfred Street in Old Town Alexandria, is open Fridays and Saturdays from 10 a.m. to 4 p.m. and Sundays from 1 p.m. to 4 p.m.