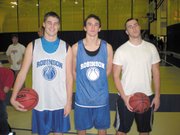 The Robinson boys' basketball team isn't looking to beat its opponents with slick outside shooting or flashy playmaking in the 2009-10 season, instead its players plan to take a more blue-collar approach to the game.
"We're not going to win games by shooting three-point shots all night or running complex offenses," said junior forward Matt Zanelatto. "We're going to do the dirty work. Dive on the floor for rebounds, steal the ball and stuff like that."
Through two games this season, the Rams are off to a 0-4 start, not exactly what head coach Brian Nelson had in mind, but the tough style of play is starting to reap some rewards.
After opening the season on Dec. 2 with a 61-45 loss to Yorktown, the Rams posted a stronger effort in a Dec. 5, 87-67 loss to South County.
"Our effort level in the second game was better [than the first game] and we played together," said junior forward C.J. Cleaves. "We shared the ball and no one person was really leading in scoring. We had multiple guys in double figures for points and rebounds."
The Rams other two losses came courtesy of Mountain View on Dec. 4 (56-83), and Langley on Dec. 8 (47-63).
Nelson said the losses can also be chalked up to inexperience on the varsity team.
"We're a young team," Nelson said. "We don't have seniors starting. Both of our senior players are out with injuries."
The roster features three sophomores and eight juniors, many of whom are just getting acclimated to varsity-level play.
"We're relying on a lot of guys who don't have a lot of varsity experience," Nelson said. "We showed a lot of signs of positive things [against South County] … but we have to learn how to win games."
Senior Mike Creighton, who is currently sidelined with an injury he received during the football season, said he's liked what he's seen from his younger teammates.
"When we started the season, there wasn't a lot of enthusiasm," Creighton said. "But after the past three games, the young players have stepped up."
Creighton also noted that it is crucial that the senior class returns to the team and plays an active role in helping to sustain any chemistry the team is creating.
"I know a lot of the guys on the team are younger, but they have a lot of chemistry," Creighton said. "I've got to get ready to join that chemistry."
While blue collar might describe Robinson's style of play, big is a better word for the team's make-up.
Of the 13-man roster, only four players are under 6-feet tall and five are taller than 6-feet 3-inches.
The Rams' hope is that by combining their size with an immense amount of hustle and heart, the team can muscle through the tough Concorde District to a state tournament appearance.
Nelson also mentioned that team captains Zanelatto and Creighton need to step up their game in order for the Rams to be successful.
"They both exhibit leadership for us," Nelson said. "We're counting on them to show the younger guys the way."
Leadership also will fall on Cleaves' shoulders because of the important role he will play for the team next season when he is a senior.
"[Zanelatto and Cleaves] need to start acting as if they are our seniors," Nelson said. "They've shown their experience [against South County] and other juniors will step in to that role with them as the season goes on."
Robinson's next game is against on Dec. 11 against Fairfax followed by a Dec. 15 bout with West Springfield.