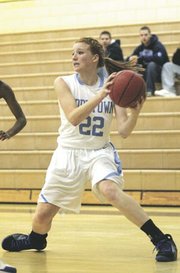 First-year Yorktown girls basketball head coach Dave Garrison considered the Patriots' offense a work in progress heading into the team's season opener Dec. 2. Robinson point guard Samantha Partonen helped confirm Garrison's outlook.
Partonen was part of a stifling defensive effort by the Rams, who forced numerous Patriot turnovers during a 56-37 victory at Yorktown High School. Robinson outscored Yorktown 17-3 during the second quarter en route to a 33-11 halftime lead. The Rams led by as many as 28 in the second half and held the Patriots under 20 points until a three-point play by Yorktown's Mya Barr made the score 45-22.
"That's what we pride ourselves on is defensive pressure," the senior Partonen said. "Coach [TJ] Dade calls it the 'killer instinct.' As soon as we can get up on someone, we want to get up on them. We'd much rather run the ball off turnovers than have to come down and have to run a set offense. … [The Yorktown] ball handlers: I thought we could pressure them. We got in their grill from the beginning and then they were kind of shaken up after that."
Partonen, an all-Patriot District selection last season, finished with a game-high 14 points.
YORKTOWN hung around early, trailing 6-5 three minutes into the opening quarter, but struggled with turnovers as the game progressed. Garrison told the team during a timeout to focus on running a set offense. After the game, the coach acknowledged Robinson's defense hindered Yorktown's ability to execute, adding the Patriots will improve as the season progresses.
"I think they put a lot of pressure on the ball which made it difficult to get into our offensive sets," Garrison said. "Also, being the first game, game speed, game pressure … it's not like practice. … [The Patriots are] trying to get into [an offensive set] and then as they get into it they kind of start playing like robots. So it's kind of getting that mix of understanding the sets but still being basketball players, and that will come in time."
Barr, a 5-foot-4 sophomore, led Yorktown with seven points. Six-foot junior Lena Negri, a second-team All-National District selection last season, and 5-foot-10 Lindiwe Rennert, the team's lone senior, each scored six.
RENNERT SCORED Yorktown's first points of the game, converting a three-point play to cut Robinson's lead to 4-3 with 6:20 remaining in the opening quarter. Negri's basket to open the fourth quarter sparked a 7-2 Yorktown run.
"I think we came out a little slow, but it's our first game, first try, everyone trying new stuff," she said. "But I think once we get used to working with each other we're going to do much better."
Brooke Huffman scored five points for Yorktown. Peyton Lee and Julia Callan each scored four points for the Patriots, while Kelly John and Ashley Stephens each added two. Emily Rebh finished with one.
Yorktown outscored Robinson 26-23 in the second half.
"We didn't quit," Garrison said. "We had more of a team concept [in the second half]."
Yorktown hosted Chantilly on Tuesday. Results were unavailable at The Connection's deadline. The Patriots will travel to take on Bishop O'Connell on Thursday.