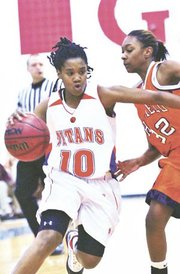 As a third quarter of offensive struggle came to a close for the T.C. Williams girls basketball team on Tuesday, Titans guard Sade' Barber stood with the ball behind the top of the arc, seemingly oblivious to the expiring clock.
Suddenly, Barber launched a 25-foot buzzer-beating 3-point attempt, which banked in off the glass and gave T.C. Williams a 13-point lead against Hayfield at The Garden.
During the break between quarters, head coach Cavanaugh Hagen appeared to vent frustration while lecturing the Titans, including sophomore point guard Sofia Schedler. In the opening minute of the fourth quarter, Schedler, who had missed some shot attempts from close range, responded with a steal and breakaway layup on which she was fouled.
The rest of the evening was similar for T.C. Williams. The Titans played well half the time, producing a combined 34 points in the first and fourth quarters, but they also managed only 16 combined points in the second and third quarters.
In the end, an inconsistent effort was enough for the Titans to win, 50-29, during their home opener. But while beating Hayfield evened T.C. Williams' record at 1-1, Hagen is looking for a more complete effort.
"We had spurts of goodness," the coach said. "We're just trying to get to the point where that's consistent."
BARBER'S 3-POINTER to close the third quarter sparked an 11-0 run for T.C. Williams, which gave the Titans their biggest lead of the night at 21 points. Hayfield pulled to within 16 after five straight points but got no closer.
"I think it was the first home game, we had some jitters," T.C. Williams junior Rainier Summa said of the team's inconsistent play. "At least we cleaned it up in the fourth quarter."
T.C. Williams lost its opener to Freedom, 70-49 on Dec. 4.
T.C. Williams' 19-point fourth quarter was its highest scoring of the evening. The Titans put up 15 in the first quarter, thanks to an 8-2 run during the final two minutes of the period. Jasmine Norman scored a pair of baskets during the last minute.
Norman, who finished with 12 points, was the only Titan to score in double-figures. Barber scored eight points and Summa added seven. Schedler and Diamond Copeland each scored four points for T.C. Williams, Charnelle Huggins finished with three and Tanera Jackson, Demi Williams, Keely Porterfield and Chelsae Hopson each added two.
PART OF THE TEAM'S offensive struggles can be attributed to forced passes. T.C. Williams turned the ball over 20 times.
"I'm very basic as far as, 'Make the easy pass,'" Hagen said. "'Pass it to someone that's open, get a better angle, then pass it inside, they'll kick it out.' Our kids try to risk a little bit too much. … We're trying to teach them, 'Take what's there. That what the defense gives you."
The Titans are also working on building team chemistry — including each player finding comfort in her role — after losing all five starters from last year, including All-American Tierra Ruffin-Pratt.
"As long as everybody works together," Copeland said, "I think we'll be fine."
T.C. Williams travels to take on West Springfield at 7:45 p.m. on Friday.
"We're a whole new team — a whole different team," Hagen said. The expectations we had last year are different than this year. They're not any less, but they're just different. For the kids to accept that and stay positive throughout everything, I think that's how we'll come out on top."