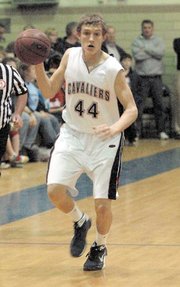 What could have been a disastrous start to the 2009-10 season for the W.T. Woodson boys' basketball team, turned into a strong weekend performance and confidence booster for head coach Doug Craig.
Just minutes into a routine drill on the first day of practice, junior guard John Schoof injured his ankle, putting the 6-foot 5-inch guard out for what Craig said will be a "couple of months."
"We're facing some early adversity," Craig said. "Losing [Schoof] is big, but we have the players to get past it. We'll be fine."
Although the early injury spoiled some of the good vibes the Cavaliers had going into their home opener this past weekend, those feelings returned when Woodson defeated Woodbridge 52-41 on Dec. 2 at the Red Jenkins Tip-off Tournament.
Senior Max Lenox scored 22 points, assisted on four baskets, captured eight rebounds and stole five balls in the win.
"We were as crisp as we'd like to be all season," Craig said. "It was a strong game for us."
The Cavaliers didn't escape the weekend unscathed. In a meeting with fellow Fairfax school Paul VI, a poor shooting effort and 17 turnovers played a key role in a 60-36 loss to the Panthers.
"The game was a bit closer than the score suggests," Craig said. "But in the last two quarters, Paul VI just blew us out."
The Cavaliers, however, aren't going to let an early season loss to one of the area's top private schools take away from the team's strong performances without Schoof.
"Early out-of-division games are like glorified scrimmages," Craig said. "You want to win them, but you're still learning about your team at that point. The division play later on matters the most."
On Tuesday, the Cavs faced local rival Fairfax and won 70-59, but the season's early stages won't get any easier for the Cavaliers.
Woodson will face Bishop O'Connell on Dec. 9, followed by the team's first Patriot District match with Lake Braddock on Dec. 11.
"We want a tough schedule early on," Craig said. "It helps you get ready for later in the season."