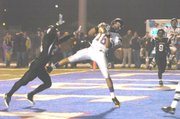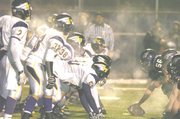 Chris Williams sure picked an opportune time to catch his first touchdown pass of the season.
After 13 weeks without a touchdown, Williams worried that even if he did manage to catch one, it would probably get taken away due to a penalty.
"I joked about it not counting," he said. "It just seemed that's how it would go this season."
Fast forward to Monday night, Dec. 7, in overtime in the state semi-finals, Lake Braddock trails Battlefield 24-21, facing a dire third and 15 situation. Quarterback Michael Nebrich needs someone to catch a pass to end the game.
Down, set, hike.
Williams cuts a slant route across the end-zone and the set play degenerates into a scramble to find an open receiver.
Nebrich rolls out of the pocket toward the Lake Braddock sideline before zeroing in on Williams deep in the end zone.
"I ran the route, turned around and looked for the ball," Williams said. "I wasn't expecting it all. It went right up over the defensive backs and I had to put my hands up to get it."
Williams makes an acrobatic jump, clasps both hands around the ball and touches his feet in the end zone before falling backward to the ground.
Game over.
Lake Braddock wins 27-24 and advances to the Virginia State Division 6 AAA final in Charlottesville, marring Battlefield's perfect 12-0 record.
"I've been waiting for a touchdown catch," Williams said. "Me and Nebrich are really good friends, and I knew it was nothing against me. I just needed to get open."
The catch was Williams' first and most important of the season. It also came from Nebrich, Williams' neighbor and best friend.
"[The catch is] huge for him and will give him a lot of confidence for the title game," said Nebrich. "[The touchdown] was just like playing in the backyard [with Williams]."
For Nebrich, the game was just another platform to showcase the junior's strong grasp of the spread offense.
Nebrich threw for 305 yards, connected with wide receiver Brandon Johnson for two passing touchdowns and rushed for 102 yards, including a four-yard touchdown run late in the fourth quarter.
"He's on his way to being the best in the area. Senior year, there won't be anyone better," said assistant head coach Bill Renner.
Nebrich's top receiving target, Brandon Johnson, finished with 130 yards receiving which includes his 29- and 49-yard touchdown receptions.
Johnson fought back tears of joy as reality hit — his team was going to the Virginia state finals.
"I'm speechless," he said. "It's just unreal. I've been dreaming of this since I was in third grade."
Despite the dramatic outcome, the game wasn't as simple as Nebrich tossing touchdown passes to receivers all night. On Lake Braddock's first drive, an errant snap forced Nebrich to take a safety giving Battlefield a 2-0 lead.
The troubles didn't end there. After assuming control with a 14-8 lead after the first half, Nebrich fumbled twice, giving way to a Battlefield touchdown drive. Fortunately for the Bruins, Battlefield kicker Jason Hoepker missed the extra point attempt.
With the score even at 14-14 and just over a minute left on the clock, Nebrich hit Johnson with a deep pass for 30 yards, setting up Nebrich's four-yard touchdown run to take the lead with 14 seconds left in regulation.
With such a miniscule amount of time left in the game, the Lake Braddock sidelines prepared its celebratory rush to the field, but Battlefield defensive back Blaine Mason hushed the Bruins with a miraculous kickoff return.
As Battlefield's Bobo Beathard was being tackled, Mason caught a pitch from Beathard and ran the ball 75 yards for the game-tying touchdown with only .9 seconds left in regulation.
"I looked up to the sky and said, 'God, what did I do?'" Lake Braddock head coach Jim Poythress said. "There had to have been something I did wrong in a past life to deserve this."
Poythress was overjoyed with the win, but he wasn't afraid to point out the mistakes that he said can't happen in the State finals.
"We gave Battlefield nine points on special teams," he said. "We let them hang around. They hung around and almost broke our backs. That can't happen next week."
Lake Braddock's first appearance in a state title game also signals the first time in 15 years a Patriot District team is contending for a state title.
Annandale is the last Patriot District school to win a state championship, taking the 1993 and 1994 state titles.
"I'm already thinking about going over game film and what we need to do next week," Poythress said. "I don't have time to [think about the team's accomplishment]."