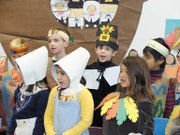 <b>Lions Club Hosts Citrus Sale</b>
The Great Falls Lions Club will be hosting its semi annual citrus sale Thursday, Dec. 10 through Saturday, Dec.12 from 9 a.m. to 6 p.m. at the Great Falls Volunteer Fire Department parking lot. A variety of oranges, red and white grapefruit will be on sale. All profits from the sale go to support various local and national Lions charities.
<b>Molly the Pony Comes to Great Falls</b>
Molly the Pony is coming to visit Lift Me Up! therapeutic riding program in Great Falls. Molly's inspirational tale of survival and determination to make it through Hurricane Katrina can be found on the Internet. Molly's days are filled with visits and "speaking engagements," as her ability to overcome adversity and adapt to her prosthetic leg allow her to share hope and encouragement to others.
Join Lift Me Up! in welcoming Molly at a reception on Sunday, Dec. 13 at 4 p.m. at the Lift Me Up! facility at 9700 Georgetown Pike in Great Falls. The "Meet Molly the Pony" reception is open to the public.
Molly will be boarding at the facility prior to the event but due to her special needs and other commitments, refrain from attempting to visit Molly before the reception.
More like this story