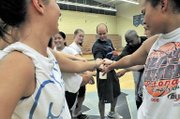 First-year Yorktown girls basketball coach Dave Garrison spoke highly of Lindiwe Rennert's leadership qualities during an early season practice.
"She's a third coach," Garrison said. "She picks things up from the start. … We're really looking or her leadership and from day one she's shown that."
A coach appreciating leadership from a player is nothing new. But the primary reason Garrison expects Rennert to assume the role of responsibility is her place as the team's only senior. Rennert, honorable mention all-National District as a junior, will be relied on for low-post scoring and rebounding, while serving as the team's elder stateswoman.
"She leads by example," Garrison said. "I can look to her. If we need to make a correction, she'll communicate what needs to be taken care of sometimes before we do. She understands what it takes to win. She brings that to practice every day."
Rennert, who averaged 8.3 points per game last season, said she trusts her teammates and doesn't feel any pressure about being a leader.
"Particularly, with the returning players," she said, "there's a strong level of leadership throughout [and] I don't feel the need to take it upon myself."
What has Rennert noticed about her new coach?
"[He brings] a whole new level of intensity," she said, "that I think we're going to benefit from right away."
THE PATRIOTS will see how they're jelling during their season opener against Robinson at 7:45 p.m. on Dec. 2. Also returning from last season's team, which finished 14-10 and lost to Westfield in the opening round of regionals, are: juniors Lena Negri, Brooke Huffman, Peyton Lee and sophomore Emily Rebh.
Garrison said Negri, a second-team all-district selection and the team's top scorer last season, will be a strong rebounder. Along with Rennert and Negri, Huffman will be looked upon to make an impact inside.
Lee and juniors Tricia Leano and Kelly John are the team's top perimeter players on a team which Garrison said will look to play an up-tempo brand of basketball.
"We're going to get up and down the floor," he said, "really push the ball and try to create in transition."
Other Patriots on the roster are: junior forwards Julia Callan, Michelle Casteel and Ava Negri, junior guard Ashley Stephens, sophomore forwards Lauren Dresser and Michelle Schmidt, and sophomore guard Mya Barr.
Garrison takes over as Yorktown head varsity girls coach after coaching the school's freshman boys team for five years. His assistant is former Wakefield head girls basketball coach DeVaughn Drayton.