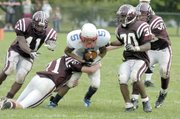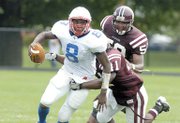 There was a fierce determination to succeed for the Park View High football team this past season. The Patriots, who had struggled through a disappointing 3-7 record in 2008, were simply not going to go through another losing campaign in 2009.
"No matter what, we weren't going to let that happen again," said Eric Palma, a junior outside linebacker for Park View.
The Patriots, in fact, experienced a dramatic turnaround, reversing their regular season record of a year ago to 7-3 this fall and qualifying for the Region II, Div. 4 playoffs. There, Park View soundly defeated Western Albemarle, 35-0, in a home semifinals game on Nov. 20. That victory advanced the Patriots to last Saturday afternoon's region championship game at Winchester's Handley High. That is where the season ended for coach Andy Hill's Patriots, who lost to the home team Judges by a 33-7 score.
Park View, with the title game defeat, ended its outstanding season with an overall record of 8-4. Handley, a member of the Northwestern District, improved to 12-0 and is set to host Bruton High of Williamsburg in a state double-A semifinals playoff game this Saturday afternoon.
"It was an incredible job by everybody [on this team]," said coach Hill, of his team's turnaround season. "All these kids played [in 2008] and really put in their minds that we weren't going to be that team this year. [A win-loss record of] 8-4 is a real step up."
Handley, on a cold, windy but sunny day in front of a large, enthusiastic home crowd, displayed the characteristics that have allowed them to go unbeaten this season in its game against Park View. Offensively, the Judges effectively ran the football. On defense, they limited Park View's ability to move the ball and consistently pressured Patriots' quarterback Brandon Lee when the 6-foot-3 inch, 205-pound senior attempted to pass.
Handley gained the game's momentum with an early interception, then scored the game's first touchdown on its first offensive play when running back Jeremiah Wilson, on a pitchout play to the right, burst free for a 22-yard touchdown run less than two minutes into the start of the contest. Handley never lost control thereafter, scoring touchdowns in both the second and third quarters to build a 20-0 lead. In the fourth quarter, the Judges remained in high gear with two more touchdowns to increase their lead to 33-0.
Park View finally broke through for a touchdown on an eight-yard scoring run by Lee with four minutes, 17 seconds left to play. Kevin Flamenco's extra point kick capped the game's scoring at 33-7.
Lee's touchdown run off the right side, which came on a first-and-goal play and out of the shotgun formation, capped Park View's best drive of the game – a nine-play, 77-yard march. Two plays prior to the touchdown, the Patriots converted a fourth-and-10 play from their own 49 yard line when Lee found senior receiver JR Shooks for a 17-yard pass play hook-up. A 15-yard defensive penalty on the same play put the ball on the Handley 19, setting up the touchdown two plays later.
But for the most part, Park View had minimal success moving the football on Saturday. Lee, a terrific double-threat quarterback as a passer and runner, managed just 43 yards rushing on 14 tries. The Patriots' next top ball carrier was senior running back Daryus Beale (13 carries, 38 yards). Meanwhile, Lee was under steady pressure from the Judges' defense when he dropped back to pass. He was sacked just one time, but was constantly trying to elude pressure. Lee did not complete a pass in 12 first half attempts and finished the game five-of-20 for 71 yards.
Both Shooks and senior wideout Nathan Santana caught two passes each for the Patriots.
"Their pressure was good," said Hill, of the Handley pass rush. "They like to come after you."
<b>BUT IN WHAT</b> was a tough game for Park View, the locals did have some highlight moments in the loss. Shooks, on a Handley extra point kick try in the second quarter, broke around the right side to block the attempt. (Earlier in the game, Lee had blocked a Handley field goal attempt).
Shooks, later in the first half from his defensive position in the secondary, also intercepted a pass when Handley quarterback Geremi Long, on a second down play from the Park View 30 yard line, tried to throw a deep ball down the left sideline. But the 6-foot-4 Shooks picked the ball off to end the Judge's threat to keep the score at 13-0.
But overall the day belonged to the Judges, who had a big game from running back Wilson (19 carries, 115 yards and two touchdowns).
Still, the title game loss hardly diminished Park View's successful season. The Patriots were 4-2 within the Dulles District. On four occasions this season, the Patriots held their opponents scoreless.
"I'm just real proud of my kids," said Hill. "It's not the way you want to end the year, but I'm proud of them."
Palma, who enjoyed an outstanding season at his linebacker position, echoed the same thoughts.
"We lost but it's OK," said Palma. "We can't be disappointed. We played as hard as we could. We just couldn't win today. I'm real proud and can't say anything negative about the team. Park View is known as a `never quit' team. We played hard and physical this year."