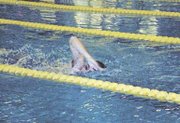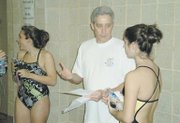 Sometimes it can take a team leader a few games, days or weeks to identify what a team needs to be successful, but Westfield senior swimmer Will Karras already has an idea of where his team can improve this season.
"We need to bring a lot more spirit to get pepped up for the meets," Karras said. "I do a lot better when people are cheering me on. I feel like every other team does a good job of cheering each other on."
Karras said a lack of spirit, a driving force behind a swim team, is one of the reasons the team finished fifth in the Concorde District — a far cry from the usual strong finishes the program has had since it started when the school opened in 2000.
Along with an infusion of more spirit is also a new crop of talented swimmers. Karras hopes they can help put the team on pace to finish in the top three in the Concorde District.
"The year before last season [in 2007-08] we lost a lot of talent and we're still trying to rebuild from that loss," Karras said. "But it looks like we have a lot of fast new swimmers. I want to see how they can contribute and help us."
THE SLOW DECLINE hasn't gone unnoticed, but head coach Bruce Andersen is hopeful that this season is the beginning of the rebuild.
"[The program] started with some really talented swimmers, but not much depth," he said. "We've kind of swam the opposite way. We don't have any big superstars, but we have a lot of great kids who are strong swimmers."
Andersen also said the opening of the Cub Run Recreation Center in Chantilly is another reason the team is hopeful about the future.
"Cub Run has helped create a stronger swim club presence in the area," he said. "As those clubs get more developed, it will help feed our program."
Although the boys' team is shooting to finish in the top three after a fifth-place finish, Andersen said the girls' team, who finished third in the Concorde District in 2008-09, is poised for another strong season.
"We still have strong girls for distance swimming," he said. "We're hoping to keep up our strength there and plug up some holes. We have some transfers that will help our girls' backstroke and bolster our individual medley events."
The Bulldogs open the 2009-10 swimming season against cross-town and Concorde District rival Centreville on Dec. 4 at Cub Run Recreation Center.