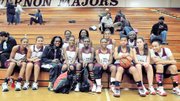 The Mount Vernon girls basketball team climbed to the top of the National District mountain last season. Now the Majors will fight to stay there.
Mount Vernon set the bar high during the 2008-09 campaign, finishing 24-3 while wrestling the district crown away from Edison and eventually losing to Oakton in the regional semifinal. The senior trio of Tracy King (5-foot-8), Jalinda Venable (5-3) and Jasmine McDonald (5-7) assure the Majors will be one of the most talented teams in the district, if not the region. But it's a group of freshmen that could make the Majors even better in this season.
Kelly Loftus (5-7), Taylor Dunham (5-3) and Tiffany Webster (5-6) will play important roles for Mount Vernon. The three freshmen, along with sophomore Lafatima Gray (5-9), provide Mount Vernon with a deep nucleus of talent. While the Majors will rely on young players for key minutes, additional talent coming off the bench provides the team more weapons for its up-tempo offense and in-your-face defense.
THE MAJORS' DEPTH should pay dividends early as King recovers from tearing the anterior cruciate ligament in her right knee in last season's regional semifinal loss to Oakton. King, a second-team all-state selection last season, is expected back in late December or early January.
"We have a young team, but we have a very skilled team," King said. "We had a skilled team last year, but we have more to look forward to coming off the bench. … We have it to where there won't be so much stress on the starting five. We will be able to get breaks and … be ready at any time."
Second-year head coach Terry Henderson said the Majors have a chance to be strong team, but he hasn't allowed them to rest on last season's success. Edison, which won five consecutive National District championships before last season, returns district player of the year Myisha Goodwin and figures to be tough once again.
"The main thing is just to continue to work hard every day and continue to give [the Majors] challenges," Henderson said. "As far as finishing 24-3, whether we do or we don't, we've got our eyes on trying to get back to that regional semifinal game and going from there. I think we can have a better team this year than we had last year and accomplish some of the same goals."
Upon her return, King will be the Majors' most potent offensive threat. She averaged 19.1 points per game as a junior and can score from anywhere on the floor. At 5-foot-8, she was also one of team's top rebounders at 8.3 per contest. King is practicing with the team and hopes to return by Christmas.
"At 75 percent," Henderson said, "I'll take [King] over half the people in the region."
AT POINT GUARD, Venable was a first-team all-district selection as a junior. Henderson said he considers Venable the second-best point guard in the Northern Region behind Edison's Goodwin. Venable will once again be the catalyst for the Majors' up-tempo offense.
"She sees plays two and three seconds before they actually happen," Henderson said. "Sometimes she's actually putting the ball in places girls should be and just haven't made it there yet."
McDonald is one of the team's top defensive players and will be looked upon as a senior leader.
"We just help [the freshmen] out when we're running over plays and going over the defenses," she said. A leader shouldn't "yell at them and get down on them because they're new to this, they're freshmen."
Seniors Anita Johnson (5-8), Gabrielle Gadson (5-7), junior Casey Thompson (5-7) and sophomores Nichole Parker (5-7) and Elizabeth Owusuwaa (5-6) will compete for playing time.
Mount Vernon travels to take on West Potomac at 7:45 p.m. Friday.
"I feel that the games aren't going to be as easy as they were last year because we have a younger team," McDonald said. "There's always room for improvement."