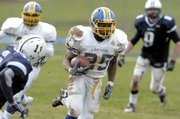 It wasn't the outcome for which Robert E. Lee senior running back Idreis Augustus had hoped, but following Lee's 21-10 loss to Stone Bridge in the Northern Region Division 5 AAA finals on Nov. 27, Augustus said he knew his team left it all on the field.
"We were happy to get here, but I knew that we wanted the win," Augustus said. "We can't settle for the loss, but we knew we were playing a good Stone Bridge team."
Fumbles, bad snaps, a muddy field and a strong performance from the Stone Bridge defense all played a role in stumping the usually powerful Lee running game. The Bulldogs recovered only one of Lee's four fumbles, but the other three put the Lancers in long yardage situations.
"We played a great team in Stone Bridge and you can't make mistakes like fumbling the ball," said Lee head coach Robert Everett. "You can't win a championship doing that."
The Stone Bridge defense also keyed in on Augustus, limiting the powerful back to only 54 yards on 20 carries, but he was able to break loose for a 26-yard rushing touchdown in the second quarter.
The cold weather and muddy field also slowed down the Lancers throughout the game.
"The cut-backs were hard to make [because of the field]," Augustus said. "In the second half, I had new cleats, but I didn't get the ball as much as I would have liked because we had to pass more."
The Lancers are accustomed to playing on their home turf field and Everett said that while the conditions weren't foreign to his team, they did present a problem.
"It's a tough field to play on," Everett said. "We're a speed team and horses need a good track to run on, but Stone Bridge played a great defensive game as well."
Defensively, the Lancers had trouble shutting down Stone Bridge running back Marcus Harris who had 139 rushing yards and two rushing touchdowns.
"There were big turning points and stops in the game that we missed," Everett said. "The game plan was to get the stop on first down and force second and long, but we couldn't do that."
At the game's end, a tunnel of Stone Bridge supporters surrounded the field's exit, waiting for their champions to exit, but as Augustus walked off the field with his team, the opposing fans heaped praise upon the Lancers with hearty applause.
"It's just a great atmosphere here," Augustus said.
The game was Lee's first football finals appearance in 35 years, signaling the Lancers are looking to become a future Division 5 powerhouse.
"We're taking a step in the right direction," Everett said. "I'm confident we're going to get back here."
Despite the loss, Everett commended his players for their ability to overcome adversity throughout the season and for fighting to the end of the championship game.
"It's been a great ride and I'm proud of everything these guys have done," Everett said. "We hoped for a different outcome, but it's been an honor and a privilege to coach them."