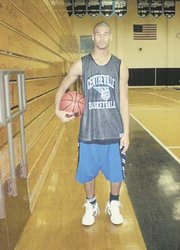 For Centreville guard Warren Denny, jumping from football to basketball conditioning in a matter of weeks proved harder than it seemed.
"I thought I was in better shape than I was," the senior said. "But after about three to four minutes of practice, I got winded."
Denny, who was a standout wide receiver for the Wildcats' football team this past season, said he still had some rust to shake off before Centerville's Dec. 2. tip-off against West Springfield.
"As a wide out, it's about five or six seconds and then your play is done," he said. "In basketball, it's back-and-forth non-stop. You also have to get back your shooting, dribbling and leg work. After practice, my legs felt like Jello."
But fear not Wildcat fans, Denny is confident that he'll be ready for the season opener and return to exciting the throngs of hometown fans.
"[Our team] has great shooting and our point guards can handle the ball well," he said. "If we just get to work on our conditioning, we'll be fine this season."
The team is looking to improve upon a 10-14 record that saw the Wildcats reach the Concorde District semi-finals. Head coach Drew Murphy hopes the experience of his returning varsity players provide the spark this season.
"I love the experience of our team," Murphy said. "We returned six juniors and three other varsity starters from last year. It's basically our old team except for two players we lost to graduation."
Murphy said having an experienced team already is paying off in early scrimmages.
"There were things that we haven't even put in or talked about that guys were just doing on the court," he said. "We're ahead of where we've been because we have so many players coming back."
THE PRESEASON vibe from the returning players suggests that Centreville could get off to a hot start while most teams are trying to find their game and work as a team.
After the season-opening game with West Springfield, the Wildcats take on Lake Braddock, Thomas Jefferson and Wakefield, providing an opportunity to get to off to a fast start.
Murphy is cautiously optimistic that the team can make an early run.
"Guys have been playing football and aren't quite conditioned yet, and we have one kid coming off an injury," Murphy said. "But I'd like to get off to fast start if we can."
While fans can expect Denny to be one of the Wildcats' leaders, Murphy also named senior Holland Anderson as a key player who will help make Centreville successful this season.
"He's our sixth man," he said. "He's going to be a key guy for us."
Murphy also cited sophomore Ken Ekanem and junior Jake Brodie as key contributors.
"We're going to be able to play eight or nine guys," Murphy said. "But [Ekanem, Brodie] need to have good years for us in particular."