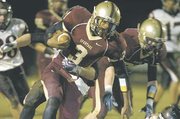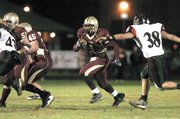 At Broad Run High, football wins are the norm and are usually decisive and even lopsided. That is why there was a sense of concern, even embarrassment, when the defending state AA champion Spartans struggled somewhat in a 34-27 Region II semifinals playoff victory over visiting Liberty High (Bealeton) on Nov. 20.
Broad Run, which has not lost a game since 2007, had not necessarily overlooked the 8-4 Eagles, members of the Cedar Run District. But the Spartans, who received a round one playoff bye and had not played a game since closing out the regular season with a 47-7 win at Dulles District opponent Potomac Falls on Oct. 30, were hardly used to giving up so many points.
"We had never been scared like that," said Broad Run senior lineman Frank Foreman, of the close win over Liberty.
Perhaps coach Mike Burnett's team needed a bit of a scare or shake-up. If that was the case, Broad Run learned from it. Because the Spartans were a different team – the one there adoring fandom has become so accustomed to seeing over the past few years – in last Saturday night's region championship game versus Sherando of Stephens City. The Spartans scored the game's first 36 points and rolled to a 36-13 home victory. Broad Run (12-0), for the most part, dominated from start to finish.
"We came out with passion," said Adrian Flemming, a senior wide receiver. "Last week we didn't come out with the fuel to win [big]. I was a little nervous [going into the Sherando game] because of the way we had played against Liberty."
With the win over Sherando, Broad Run advances to the state double-A playoffs and is set to play at Powhatan High, a member of the Southside District, this Saturday afternoon at 1:30.
<b>BROAD RUN</b> moved the ball practically at will against Sherando, who ended the season at 9-3. The Spartans accumulated 232 rushing yards, led by TJ Peeler's 156 yards and three touchdowns on 25 carries. And Broad Run sophomore quarterback Connor Jessop completed nine-of-15 passes for 137 yards and a touchdown. The scoring pass went to Flemming from nine yards out in the second quarter, Broad Run's second touchdown of the night. On the play, Jessop, on a second-and-goal from the nine, zipped a hard-thrown ball towards the back of the end zone where Flemming snatched it with both hands at eye level.
Flemming, who also had an interception on defense, finished the night with three catches for 61 yards. Jessop, along with his good passing numbers, also ran for a score – a quarterback sneak play from a yard out in the final 30 seconds of the first half which, following kicker Spencer Martin's third extra point kick, gave the home team a 21-0 lead at the half.
Broad Run, which had executed a successful onside kick in the first half, did so again to start the second half. The ball was recovered by Peeler. (Sean Magness had recovered Martin's onside kick in the first half).
Then, on Broad Run's first offensive play of the second half, Peeler took a pitch left before cutting back against the grain and going all the way into the end zone from 45 yards out. Moments later, with a 28-0 lead, Broad Run's defense forced a turnover when senior linebacker Josh Nappier intercepted a pass by Sherando quarterback Corey Rice on a long throw down the middle of the field.
The Spartans' offense made the Warriors pay by marching 62 yards over nine plays and scoring on a 10-yard Peeler run off the left side. On the two-point conversion play, Jessop connected with senior tightend Alex Evans in the right side of the end zone to make the score 36-0.
Three plays later, Broad Run came up with one of the game's most exciting plays when Flemming intercepted a pass and returned it 29 yards.
<b>ULTIMATELY</b>, Sherando would break the shutout with two fourth quarter touchdowns. But Broad Run, behind its vocal fans, had carried the night and the game.
Jessop credited Broad Run's strong offensive line play and the superb running of Peeler afterwards. He said the '09 Spartans are making a name for themselves. They are not trying to live up to the lofty expectations created by last year's unbeaten state champions.
"We're our own team," said Jessop. "We definitely came up huge tonight and we're going to states. We're happy to win the region but we still have to [play well] at states."
For the Broad Run seniors, the region title contest was their final career home game.
"This was our last game at home and everybody was fired up," said Flemming, speaking for the seniors. "We didn't want to lose in our last game on this field."
Foreman, the team's defensive leader, said the Spartans had a lot to prove following the so-so showing against Liberty the week before. The Spartans' defense definitely stepped it up against Sherando, allowing just 77 rushing yards and 50 yards through the air. Broad Run forced three turnovers and allowed only four first downs, all in the second half.
"We played great tonight," he said. "We played Broad Run football. We were all pumped up because of last week. We had never been scored on like that."
Foreman said Broad Run does not feel the weight of trying to defend last year's state crown.
"We don't feel any pressure," he said. "We don't want this thing to end. Our motto this year is, `champions finish.' And we want to finish."