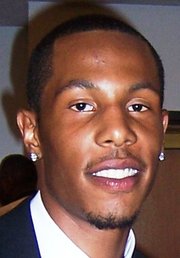 After a successful junior college career, a former West Potomac and Hayfield Secondary School star is realizing his dream of playing NCAA basketball.
Brit Kelly, 22, of Alexandria recently agreed to transfer from Imperial Valley College in Imperial, Calif., to Shaw University in Raleigh, N.C., the oldest historically black college in the South.
Although Shaw University won the Central Intercollegiate Athletic Association championship in 2002, it was Shaw's Baptist community that drew Kelly to the school.
"I felt like I was getting in touch with my roots," he said. "When I visited Shaw University, it was like God told me, 'This is where you should be.' "
Kelly, a member of the Mount Calvary Baptist Church in Alexandria, said he employs his relationship with God on the basketball court and in the classroom.
"I wouldn't be able to shoot a jump shot without Christ," he said. "I strayed from going to church in the West Coast. A lot of friends were going through stress and I was, too. I found refuge in my relationship with God."
Though Kelly selected Shaw because of its Baptist community, his basketball credentials make him a top recruit for its program.
As a member of the Imperial Valley College team, which last won a championship in 1986, Kelly helped lead the Arabs to back-to-back Pacific Conference championships.
Kelly also was selected to the First-Team All-Conference squad in both seasons at Imperial Valley College.
"That's when things really broke out for me," Kelly said. "I wasn't expected to be on the team."
KELLY CAUGHT the eye of newly appointed Shaw University Basketball Coach Cleo Hill Jr., last year. Hill said he has big plans for the guard.
"There were a lot of things I liked about Brit," Hill said. "He's a big guard, plays like [Houston Rockets star] Tracy McGrady and has a high basketball IQ."
While Shaw University impressed Kelly, the decision to transfer there was made tougher by the fact that some PAC-10 schools were also interested in him.
David Houston, West Potomac's varsity basketball coach, was a mentor to the young guard during the recruiting process.
"I was an ear for him," Houston said. "He was weighing a few options and I gave him someone he could talk to."
Houston, a graduate of Coppin State University in Baltimore, Md., was able to provide Kelly with insight about the benefits of attending an historically black college.
"It's more of what does a person need, rather than what can they get," he said. "Brit's Baptist background made him a perfect fit for Shaw."
Hill already is planning the season around him and wants to use Kelly in the same way legendary basketball coach Phil Jackson of the Los Angeles Lakers uses his guards.
"Big guards just make life so much easier," Hill said.
While Kelly's jump shot and basketball knowledge have brought him success on the court, he credits his family, 8-month-old daughter Lyric and girlfriend Tawni Parham, 25, as his mentors.
"I'm trying to get set up for life," he said.
Though his basketball skills are his forte, Kelly also has his eye on a career as a history teacher.
"I had a history teacher at Imperial Valley who had a voice like [the late movie announcer Don LaFontaine]," he said. "He would tell us the stories of slavery, World War II in that voice. Just when it got good, he'd say, 'If you want to know the rest, come to class.' I want to do that for kids."
At Shaw University, Kelly will major in education, but he said he does have some interest in playing professional basketball.
Coach Hill said that Kelly's chances for making the professional ranks are "pretty good at his size," but Kelly said he would like to play a role in helping others achieve their basketball dreams.
"I'd like to teach children and be a coach," he said. "I'd like to help other basketball players try to reach college and the pros."