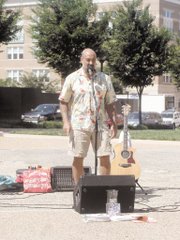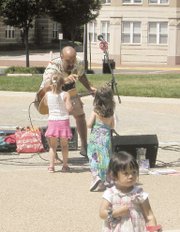 With many free and accessible entertainment options available, Reston parents do not have to worry about keeping children occupied.
Several weekly performance series throughout the Reston area focus primarily on children and family entertainment.
The amphitheater in the Reston Town Center Park hosts a free family series of performers most Saturdays at 11 a.m. throughout the summer. The series highlights a variety of performers, including a magic show and several musicians who tailor to young audiences.
Children can begin their week with interactive music performances at the Reston Town Center Pavilion. The concert series takes place from May through mid-October on Mondays at 10 a.m., in the Reston Town Center Pavilion. Lake Anne Village Center hosts another summer series every Tuesday and Thursday at 11-11:30 a.m., featuring a wide range of children's performers.
The Reston Museum, closed for renovations scheduled through June, hosts free children's art workshops every Saturday from 10 a.m.-12 noon. These sessions, which take place at the Reston Art Gallery & Studios until the museum reopens, include make-and-take projects.
The 30--acre Reston Zoo, located on Hunter Mill Road, features wagon rides through the park, pony rides and demonstrations from staff employees. Visitors can pet and interact with select animals, including lambs. The zoo operates from March to November and paid admission is required.
Reston also hosts a few annual events that cater to families with younger children.
On the first Saturday in May from 10 a.m.-4 p.m., Reston Town Center hosts the Pet Fiesta, with contests and displays by animal rescue groups. On the last Saturday in October, from 12-4 p.m., Lake Anne Merchants sponsor a fall celebration. Families can enjoy live entertainment, trick-or-treating and crafts. On the Friday after Thanksgiving at 11 a.m., Reston Town Center hosts its annual holiday parade, complete with floats. Earlier that morning, children and teens of all ages can run with Olympian Alan Webb, South Lakes High School alumnus.
Lake Anne hosts its own holiday celebration on the first Saturday in December from 11 a.m.-1 p.m. The festivities include a petting zoo, crafts and a visit from Santa by barge.
Interested parents can view a calendar of events at the Reston Town Center Web site at www.restontowncenter.com and the Lake Anne Center Web site at www.lakeanneplaza.com.