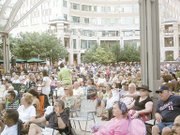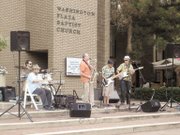 Friday afternoon brings a few days of freedom from work, but, for musicians, business in Reston picks up as the week finally ends.
Most musical performances in Reston take place as part of a season or yearly concert series sponsored by local community centers.
The Concerts on the Town Summer Series runs from 7:30 – 10 p.m. on Saturday nights from June 6 through Aug. 29. Sponsored by the Reston Town Center Association and Fidelity Investments, the concerts feature artists ranging from a Beatles tribute band to a big band.
"They have a wide variety of music. The fact that the concerts are free makes it so much better," said Teri Condrey, who recently moved to Reston.
The concerts, which take place in the Town Center Pavilion, are free and open to the public. Since their inception, they have been popular with residents of all ages.
"The concert series is great. It is just so delightful to hear the music," said Ted Thayer, a Reston resident since 1972.
Lake Anne hosts the Take a Break Concert Series, which is sponsored by the Reston Community Center. The concerts take place Thursday, from 7-9 p.m., through Aug. 20. The series similarly includes a broad range of artists such as a Latin band and a bluegrass group.
The Friends of Lake Anne present two additional free concert series. In conjunction with the Reston Farmers Market and the Reston Market, live bands play in front of Reston's Used Book Shop from 11:30 a.m.–1 p.m. on Saturdays through August. On Fridays at 7 p.m. throughout the summer, the Fountain Notes series offers a change for emerging artists to showcase their music on the plaza stage.
For families, Reston offers multiple musical venues geared to children. On select Saturday mornings at 11 a.m., children's musicians perform in the Reston Town Center Park. The concerts are part of a free family series held throughout the summer. Interactive children's music is available at 10 a.m. on Mondays, from May through mid-October, at the Reston Town Center Pavilion.
For more information and a calendar of events, visit the Reston Town Center Web site at www.restontowncenter.com and the Lake Anne Center Web site at www.lakeanneplaza.com.
More like this story