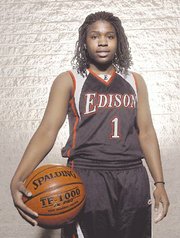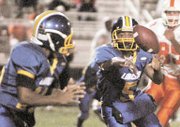 <b>West Springfield High</b>
Mascot: Spartans
School Colors: Orange and blue
Rivals: Lake Braddock, South County
Athletic Director: Andy Muir; 703-913-3909
Athletic Hotline: 703-749-8100
Famous Alums: James Dexter, Kara Lawson, Joe Saunders … Dexter was an offensive lineman for the NFL's Arizona Cardinals and Carolina Panthers … Lawson, a current Sacramento Monarch and former Tennessee Lady Volunteer, won gold with Team USA at the 2008 Beijing Games … Saunders was an all-star selection with the Los Angeles Angels of Anaheim in 2008 when the lefty went 17-7 with a 3.41 ERA.
Notable Coaches: Bill Gibson (girls' basketball), John James (baseball)
<b>Robert E. Lee High</b>
Mascot: Lancers
School Colors: Blue and gold
Rivals: West Springfield, Hayfield
Athletic Director: Dale Eaton; 703-924-8352
Athletic Hotline: 703-883-4616
Famous Alums: Melissa Belote, John Engelberger, Mary Yarrison … Belote won three gold medals at the 1972 Munich Games at the age of 15; Engelberger was drafted in the second round (35th overall) of the 2000 NFL Draft by the 49ers; Yarrison, a three-time state champion diver, went on to the University of Arizona and internal competition after her days as a Lancer.
Notable Coaches: Mike Harris (boys' basketball), Barry Mensh (cross-country)
<b>Edison High</b>
Mascot: Eagles
School Colors: Red, white and navy blue
Rivals: Yorktown, Mount Vernon
Athletic Director: Berk Stoy; 703-924-8090
Athletic Hotline: 703-924-8173
Famous Alums: Pat Toomay … Toomay, a defensive end, spent five years in Dallas and played for the Super Bowl VI-winning team in 1972. He also spent time with Buffalo, Tampa Bay and Oakland.
Notable Coaches: Vaughn Lewis (football), Dianne Lewis (girls' basketball), Bernadette Flynn (cross-country)
<b>Hayfield Secondary</b>
Mascot: Hawks
School Colors: Orange and white
Rivals: South County, West Springfield, Lee
Athletic Director: Steve Kewer; 703-924-7470
Athletic Hotline: 703-749-8132
Famous Alums: Ronnell Felton, Cornell Felton … the Felton brothers provided a steady flow of talent for the Hayfield boys' basketball teams in the 1990s, winning three district and one region between 1991-98.
Notable Coaches: Rudy Coffield (girls' basketball), Ron Palmer (boys' basketball), Roy Hill (wrestling), Ron Giovannucci (softball)
<b>How It's Structured</b>
The majority of Northern Virginia's public schools are members of the Virginia High School League. The VHSL is based in Charlottesville and is the largest governing body for prep sports in the state. Public schools are divided into three classifications of competition in the state: AAA, AA and A, with all schools in Fairfax Country representing AAA, the largest.
Four districts -- the Concorde, Liberty, National and Patriot -- comprise the Northern Region, which is one of four such classifications in AAA (the Eastern, Northwest and Central are the others).
This athletic season marks a significant change, too, for the Northern Region's landscape with Hayfield, Fairfax and W.T. Woodson all shifting districts. Hayfield will rotate from the Patriot to the National, with W.T. Woodson leaving the Liberty to fill in behind. In W.T. Woodson's Liberty slot, Fairfax will shift from the Concorde, which now only has six teams.
Here are the re-aligned districts for the 2009-10 athletic season:
Concorde: Centreville, Chantilly, Herndon, Oakton, Westfield, Robinson
Liberty: Stone Bridge, Langley, Madison, Marshall, McLean, South Lakes, Fairfax, Jefferson
National: Edison, Falls Church, J.E.B. Stuart, Mount Vernon, Wakefield, Washington-Lee, Yorktown, Hayfield
Patriot: Annandale, Lake Braddock, South County, T.C. Williams, West Potomac, West Springfield, Lee, W.T. Woodson
<b>What You Missed</b>
Fourteen wins, 11 losses and a first-round Northern Region tournament loss to Oakton didn't sting as much for West Springfield baseball coach John James because in the spring of 2007 when those occurred, the nucleus of his team was primarily sophomores, a group that stuck together until their senior season this spring.
When West Springfield went 15-5 in 2008, the improvement was noted but not without reference to the 2009 campaign. It was the season when everything would click, the season when West Springfield would win its first region title since 1998 and seventh overall.
In 2009, the Spartans re-emerged as one of the area's most successful baseball programs. From 1974-2000, Ron Tugwell managed West Springfield's baseball club, becoming one of the most legendary coaches in any sport that the Northern Region has ever produced, winning 12 district, six region and two state titles.
After topping Lake Braddock, 11-1, James, the Spartans' manager since 2005, collected his first significant piece of hardware.
"This has been a goal for the kids since the fall when school started, and they never lost focus on it," James said. "It was business as usual, and they wanted it."
Elsewhere at West Springfield, first-year boys' lacrosse coach Scott Settar took a 7-5, won the Patriot District and proved the Spartans belonged with lacrosse powers like Langley, W.T. Woodson and Chantilly. And girls' soccer coach J.T. Alukonis, also in his first year, guided the Spartans to their own Patriot District title and a Northern Region semifinals appearance.
On the hardwood, West Springfield's girls' basketball team had yet another strong season under longtime coach Bill Gibson, but over at Lee the boys' basketball team shocked many en route to a Northern Region semifinal berth.
After two years at West Potomac and one at T.C. Williams, senior forward Frank Holloway Jr. landed at Lee and boosted the Lancers' reputation. In his first game, Holloway had 24 points and 18 rebounds before earning first team All-Connection honors this past winter.
At Edison, although the girls' basketball team had its 71-game National District win streak snapped, the Eagles returned one of the region's most talented players in guard Myisha Goodwin, who averaged 25 points, 5 assists and 7 steals per game and was a first team All-Connection pick.
At least one notable change will be in place at West Springfield this fall as longtime football coach Bill Renner stepped down after last season to focus on his son Bryn's collegiate career at the University of North Carolina. Stepping in will be former Marshall field boss J.T. Biddison, who inherits a team that finished 8-4 and reached the region semifinals last fall.
"[West Springfield] had had a very strong program, especially in the last couple of years," said Biddison, who teaches math and special education. He hopes to land a teaching job as well at West Springfield. "I'm real excited to be a part of the Spartan community."
In addition to Edison, who's a perennial favorite to win the National District and contend for a Division 5 title, keep an eye on Lee this fall. The Lancers are a hard-working, up-and-coming bunch that may turn a few heads finally.
<b>Save This Date</b>
Part of the ritual of moving to a new place is checking out the local high school football scene, or at least that's the way sports-obsessed folks think anyhow. So, this fall, make it a priority to watch two local teams on the gridiron.
Edison has struggled in recent years to find National District competition outside of Yorktown, but it likely will arrive this season courtesy of Hayfield. The Eagles and Hawks will meet in Week 10 (Nov. 6, 7:30 p.m.), with a possible district title at stake.