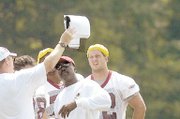 It's a rite of passage for rookie defensive linemen on the Washington Redskins. Following a grueling practice, each has to carry the equipment of one of the team's veterans. For J.D. Skolnitsky, a Fairfax High School graduate trying to make the Redskins as an undrafted free agent, that meant Sunday's practice ended with him carrying the gear of veteran Renaldo Wynn.
"You got to do all the rookie things like get them water before the meetings," said Skolnitsky, a 255-pound defensive end. "The rookies switch off, whichever pro wants to give you his stuff, you got to take it."
Skolnitsky can live with the hazing considering what he went through last year as a junior at James Madison University. He had a strong regular season for the Dukes, registering 61 tackles and 4.5 sacks, but tested positive for a banned substance before James Madison's playoff run and automatically received a one-year ban.
Skolnitsky said the positive test was due to an over-the counter weight gain supplement he took without showing the product's label to James Madison coaches. It forced him to declare for the NFL Draft a year early, though.
In 2005, Skolnitsky earned second team all-region honors as a tight end at Fairfax. But he hasn't been able to make it home since training camp started. Right now, his sole focus is on getting adjusted to the NFL. He suffered a setback Sunday, though, tweaking his hamstring a bit.
The Redskins have 14 other defensive linemen in camp this year, so the competition is stiff. But after a tumultuous spring, Skolnitsky knows the worst is likely behind him.
"It has definitely been different, just going from not really knowing if I could continue with my football career and now this. It's definitely a nice change," he said. "The goal is to make the team, but I guess we'll just see how the rest of the preseason goes."