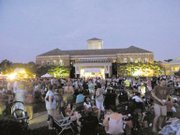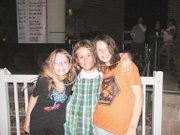 For 15 summers, the Herndon town green has come to life every Friday night from the beginning of May to the end of August with Friday Night Live, Herndon's free outdoor concert series.
"It's developed into quite a family event," said John DeYoung, who has been part of the all-volunteer Event Staff, usually members of the Herndon Optimist Club, for several years. "People leave and they say, see you next week! A lot of people are regulars here."
On a recent Friday, the featured band was Love Seed Mama Jump, a rock band from Dewey Beach, Del. People of all ages gathered in front of the Herndon Municipal Center to enjoy the show — children with glow sticks, teenagers dancing and parents relaxing on the lawn crowded the green.
Felicia Phillips, who has lived in Herndon since 2000, was there on Friday night with her son, Andrew. "I've been bringing him since he was about 15-months old," said Phillips. Andrew is now 9.
How would you describe the atmosphere of Friday Night Live in three words?
"Chocolate, vanilla and strawberry," said Andrew, who called the food one of his favorite parts of the weekly event. Food is for sale at Friday Night Live from local eateries. Beer, which can be purchased and consumed at the concert but is not allowed to be taken off the green, is provided by Budweiser.
"It's alive," Felicia Phillips said of the event. "The community spirit, the atmosphere. … It's something fun to do on Friday night. It's nice to be able to let the kids play. … It's one of those things. I can't really describe it."
Regulars who have been coming to Friday Night live summer after summer said they have great memories of their favorite shows.
"In the last year we had B2B, a Jimmy Buffet tribute band," said DeYoung. At that concert, his two sons showed up at the concert to surprise wife and mother Sally DeYoung for her birthday. "She said it was the best birthday surprise ever."
The complete summer schedule is available on the Friday Night Live Web site, www.herndonrocks.com.
Felicia and Andrew Phillips also had favorite memories of past nights on the green to share.
"I remember when they were switching from band to band to band in one single night," said Andrew. "They even had a single that was a cowboy singing."
"I thought you were going to say when you got to dance on stage," his mother said.
"That too," said Andrew.
Felicia Phillips remembered Andrew being pulled up to dance on stage because that show, the Kelly Bell Band, was one of her favorite nights as well.
"We were here with my dad, and it was something so new and different. … We actually bought the CDs and it was the first time that we ever stayed from the beginning to the end," she said.
Phillips called Friday Night Live a true community event.
"It's one of the reasons that I will forever live in Herndon," she said. "You run into people, sometimes you don't, but more than likely you'll make new friends while you're there."