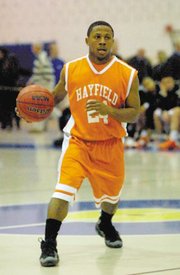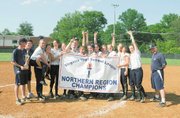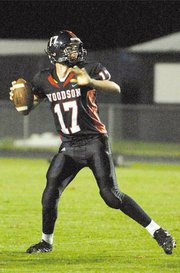 <b>South County Secondary</b>
Mascot: Stallions
School Colors: Blue, gray and green
Rivals: Hayfield, West Springfield, Lake Braddock
Athletic Director: Mike Pflugrath; 703-446-1675
Athletic Hotline: 703-446-1555
Famous Alums: Matt Vane, Jesse Beal, Chris Panneton … Vane, a 2007 SCSS graduate, was an All-Patriot District performer as a defensive back and wide receiver and now plays football for Army; Beal was drafted in the 14th round in 2008 by the Baltimore Orioles and is now 3-3 with a 3.70 ERA with the Rookie-League Bluefield Orioles; Panneton eschewed several smaller schools and made the men's basketball team at Virginia Tech as a walk-on this past winter.
Notable Coaches: Pete Bendorf (football), Mark Luther (baseball), Al Thompson (softball), Chrissy Kelly (girls' basketball)
<b>Robinson Secondary</b>
Mascot: Rams
School Colors: Blue and gold
Rivals: Lake Braddock, Westfield, Chantilly
Athletic Director: Marty Riddle; 703-426-2126
Athletic Hotline: 703-790-2222
Famous Alums: Rob Muzzio, Chris Warren, Javier Lopez … Muzzio, a decathlete, placed fifth at the 1992 Barcelona Games and won NCAA Division-I decathlon titles in 1984-85 … Warren ran for 1,545 yards with the Seattle Seahawks in 1994 … Lopez won a World Series ring with the Boston Red Sox in 2004.
Notable Coaches: Mark Bendorf (football), Jim Rike (girls' soccer), Paul Fisher (boys' tennis)
<b>W.T. Woodson High</b>
Mascot: Cavaliers
School Colors: Blue, red and white
Rivals: Annandale, Langley, Fairfax
Athletic Director: Dan Checkosky; 703-503-4681
Athletic Hotline: 703-827-1711
Famous Alums: Tommy Amaker, Andy Heck, Steve Marino … Amaker, formerly at Michigan, is the head coach of Harvard's men's basketball team; Heck captained the 12-0 Notre Dame football team in 1988 that won an NCAA national championship; Marino had two breakout performances at the AT&T National and British Open this summer.
Notable Coaches: Jon FitzGerald (boys' lacrosse), Warren Williams (girls' soccer), Chris Warren (baseball)
<b>Hayfield Secondary</b>
Mascot: Hawks
School Colors: Orange and white
Rivals: South County, West Springfield, Lee
Athletic Director: Steve Kewer; 703-924-7470
Athletic Hotline: 703-749-8132
Famous Alums: Ronnell Felton, Cornell Felton … the Felton brothers provided a steady flow of talent for the Hayfield boys' basketball teams in the 1990s, winning three district and one region between 1991-98.
Notable Coaches: Rudy Coffield (girls' basketball), Ron Palmer (boys' basketball), Roy Hill (wrestling), Ron Giovannucci (softball)
<b>How It's Structured</b>
The majority of Northern Virginia's public schools are members of the Virginia High School League. The VHSL is based in Charlottesville and is the largest governing body for prep sports in the state. Public schools are divided into three classifications of competition in the state: AAA, AA and A, with all schools in Fairfax Country representing AAA, the largest.
Four districts -- the Concorde, Liberty, National and Patriot -- comprise the Northern Region, which is one of four such classifications in AAA (the Eastern, Northwest and Central are the others).
This athletic season marks a significant change, too, for the Northern Region's landscape with Hayfield, Fairfax and W.T. Woodson all shifting districts. Hayfield will rotate from the Patriot to the National, with W.T. Woodson leaving the Liberty to fill in behind. In W.T. Woodson's Liberty slot, Fairfax will shift from the Concorde, which now only has six teams.
Here are the re-aligned districts for the 2009-10 athletic season:
Concorde: Centreville, Chantilly, Herndon, Oakton, Westfield, Robinson
Liberty: Stone Bridge, Langley, Madison, Marshall, McLean, South Lakes, Fairfax, Jefferson
National: Edison, Falls Church, J.E.B. Stuart, Mount Vernon, Wakefield, Washington-Lee, Yorktown, Hayfield
Patriot: Annandale, Lake Braddock, South County, T.C. Williams, West Potomac, West Springfield, Lee, W.T. Woodson
<b>What You Missed</b>
Following the South County football team's 35-16 win over Annandale on Nov. 2, 2007, head coach Pete Bendorf was finishing his postgame speech when Bob McKeag, the director of student activities at the time, approached the group of coaches and players.
McKeag congratulated the team for being one of several successful programs at South County that year, the third in the school's history. He also let the football team know that this was the first time in South County's brief history that all of its teams during a given season reached the postseason.
Almost two years later, South County's athletic program, which is now under Mike Pflugrath's direction, has taken its success a few steps further to become one of the Northern Region's perennial powers, along with schools like Westfield, Chantilly, Lake Braddock and Robinson.
During the 2008-09 athletic year, South County sports that won Patriot District titles included field hockey, volleyball, wrestling, softball, boys' soccer and girls' tennis.
The most recent example of South County's dominance has been its softball team, which won a Northern Region title this spring by defeating Centreville. With a talent-laden group of rising seniors, the Stallions figure to make plenty more headlines this coming spring.
"We all are really committed and we want to win, but we know how to have fun with it, too," said one of those soon-to-be seniors, third baseman Stephanie Sbardella.
Several programs are noteworthy at Robinson, including those that involve a soccer ball. In the spring of 2008, both the girls' and boys' teams reached the Virginia AAA state finals with the girls' team capturing the fifth state trophy of coach Jim Rike's 30-plus year career. On the boys' side, Robinson thumped Westfield, 3-0, to capture this year's region crown under former George Mason University/Lake Braddock/Centreville coach Jac Cicala.
The swim and dive teams at Robinson have been dominant for years, too. This past winter both won state titles; it was the first since 1994 for the girls' team and the seventh straight for the boys' squad.
Brothers Mark and Pete Bendorf, who coach the Robinson and South County football teams, respectively, have vowed to not compete against one another if they can help it. However, both perennial field some of the region's top football teams and the day where they meet may come soon rather than later.
<b>Save This Date</b>
Part of the ritual of moving to a new place is checking out the local high school football scene, or at least that's the way sports-obsessed folks think anyhow. So, this fall, make it a priority to watch two local teams on the gridiron.
Both W.T. Woodson and South County figure to contend for a Patriot District title. While football certainly offers no guarantees, the Cavaliers' Week 10 (Nov. 6, 7:30 p.m.) home date with South County may have some serious playoff implications.