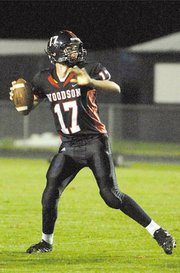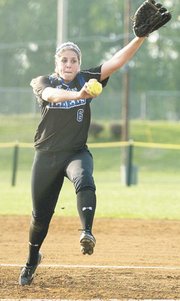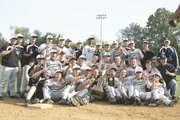 <b>Fairfax High</b>
Mascot: Rebels
School Colors: Blue and white
Rivals: W.T. Woodson, Robinson
Athletic Director: Tim Gordon; 703-219-2201
Athletic Hotline: 703-743-8130
Famous Alums: Brandon Royster, Owen Schmitt, Bill Pulsipher … Royster rushed for more than 5,300 yards and 60 touchdowns at Fairfax; Schmitt, now with the Seattle Seahawks, blocked for Steve Slaton and Pat White at West Virginia; Pulsipher pitched for MLB's Mets, Brewers, Red Six, White Sox and Cardinals over six seasons between 1995-2005.
Notable Coaches: Dave Bauer (tennis), Amber Beaudoin (field hockey), Chris Haddock (football)
<b>Robinson Secondary</b>
Mascot: Rams
School Colors: Blue and gold
Rivals: Lake Braddock, Westfield, Chantilly
Athletic Director: Marty Riddle; 703-426-2126
Athletic Hotline: 703-790-2222
Famous Alums: Rob Muzzio, Chris Warren, Javier Lopez … Muzzio, a decathlete, placed fifth at the 1992 Barcelona Games and won NCAA Division-I decathlon titles in 1984-85 … Warren ran for 1,545 yards with the Seattle Seahawks in 1994 … Lopez won a World Series ring with the Boston Red Sox in 2004.
Notable Coaches: Mark Bendorf (football), Jim Rike (girls' soccer), Paul Fisher (boys' tennis)
<b>W.T. Woodson High</b>
Mascot: Cavaliers
School Colors: Blue, red and white
Rivals: Annandale, Langley, Fairfax
Athletic Director: Dan Checkosky; 703-503-4681
Athletic Hotline: 703-827-1711
Famous Alums: Tommy Amaker, Andy Heck, Steve Marino … Amaker, formerly at Michigan, is the head coach of Harvard's men's basketball team; Heck captained the 12-0 Notre Dame football team in 1988 that won an NCAA national championship; Marino had two breakout performances at the AT&T National and British Open this summer.
Notable Coaches: Jon FitzGerald (boys' lacrosse), Warren Williams (girls' soccer), Chris Warren (baseball)
<b>How It's Structured</b>
The majority of Northern Virginia's public schools are members of the Virginia High School League. The VHSL is based in Charlottesville and is the largest governing body for prep sports in the state. Public schools are divided into three classifications of competition in the state: AAA, AA and A, with all schools in Fairfax Country representing AAA, the largest.
Four districts -- the Concorde, Liberty, National and Patriot -- comprise the Northern Region, which is one of four such classifications in AAA (the Eastern, Northwest and Central are the others).
This athletic season marks a significant change, too, for the Northern Region's landscape with Hayfield, Fairfax and W.T. Woodson all shifting districts. Hayfield will rotate from the Patriot to the National, with W.T. Woodson leaving the Liberty to fill in behind. In W.T. Woodson's Liberty slot, Fairfax will shift from the Concorde, which now only has six teams.
Here are the re-aligned districts for the 2009-10 athletic season:
Concorde: Centreville, Chantilly, Herndon, Oakton, Westfield, Robinson
Liberty: Stone Bridge, Langley, Madison, Marshall, McLean, South Lakes, Fairfax, Jefferson
National: Edison, Falls Church, J.E.B. Stuart, Mount Vernon, Wakefield, Washington-Lee, Yorktown, Hayfield
Patriot: Annandale, Lake Braddock, South County, T.C. Williams, West Potomac, West Springfield, Lee, W.T. Woodson
<b>What You Missed</b>
Few program turnarounds can trump the reversal that the Fairfax softball team accomplished this past spring. From 1-13 two years ago to 14-8 in 2009, the Rebels showed that they are more than capable of competing with Centreville and Westfield in the Concorde District.
"We've always been at the bottom, and that's what's great: This district, it's all up for grabs," said first-year coach Corey Stokes.
Other programs at Fairfax had successful years without the need for much change.
Traditionally strong in tennis, Fairfax again displayed its talent with the boys' doubles team of Sidarth Balaji (Northwestern) and Jason Luu winning a Virginia AAA state title.
The Fairfax girls' swim and dive team, which won the region in 2007-08, graduated four outstanding senior swimmers after that group, paired together in the 200-yard medley relay, set a state record for the second straight year.
Titles continued to arrive at Robinson, with the girls' indoor track and field, girls' lacrosse, boys' soccer and girls' swim and dive teams all winning Northern Region crowns. More about Robinson can learned with the Burke Connection.
At W.T. Woodson, although the Cavaliers did not boast a region champion, several programs had impressive years, headlined by the girls' lacrosse team. Led by first-year coach Meaghan O'Leary, the Cavaliers won the Liberty District and finished third in the Northern Region, advancing to the state playoffs.
At Paul VI, the baseball team continued to grab headlines, with manager Billy Emerson's team winning both Washington Catholic Athletic Conference and Virginia Independent Schools Athletic Association titles for the first time ever. The basketball teams at Paul VI also won VISAA titles.
A list of players to follow this year should include W.T. Woodson's Connor Reilly, a strong-armed quarterback who committed to Temple; Fairfax softball's Ashley Rollins, who, despite a partially torn rotator cuff in 2008, returned to stabilize the Rebels in the circle this spring; and Audrey Barry, a two-sport star at Robinson for both the girls' soccer and indoor track and field teams.
<b>Save This Date</b>
Part of the ritual of moving to a new place is checking out the local high school football scene , or at least that's the way sports-obsessed folks think anyhow. So, this fall, make it a priority to watch two local teams on the gridiron.
Behind the strong arm of quarterback Connor Reilly, W.T. Woodson should contend for a Patriot District title. While football certainly offers no guarantees, the Cavaliers' Week 10 (Nov. 6, 7:30 p.m.) date with South County may have some serious playoff implications.